Watsons Foot File
Special price at the basket
Product Details

About This Shop

Promotion

PAYMENT & DELIVERY
Description
Watsons Foot File

Watsons Foot File make you remove the dry skin quickly and effective. Smooth and soft feet in just 15 minutes a day. Perfect solution for dry, calloused and ed heels which gives soft fancy feet with little effort. Regular and professional foot filing improves oxygen supply to the feet and makes the skin healthier. The self-repair process of skin also improves with foot filing.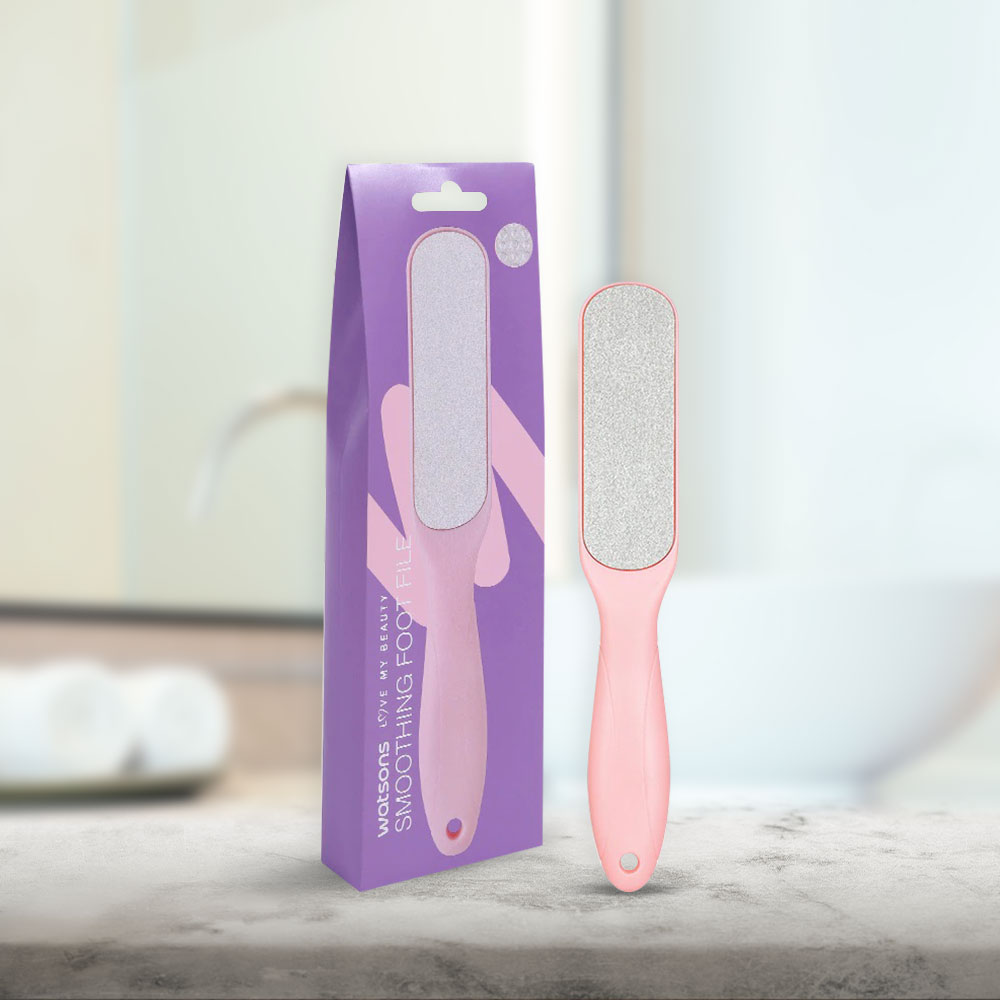 Main ingredients and uses:
- This is a non-electronic foot file that is very safe to use and has a large ergonomic head and a solid handle. Removing calluses with a large file surface quickly removes calluses, bad heels and tough deep skin, leaving your feet smooth and reducing skin cracking.
- Foot grinder prevents skin damage and reduces calluses and corns into powder without causing any damage to your healthy skin.
- The large, lightweight design lets you work with ease and provides fast, amazing smoothness that instantly eliminates calluses for soft, beautiful feet.
- It can be used on wet foot or any wet condition, giving equal good results on both wet and dry foot.

Used for:
Watsons Foot File used for foot care every day.

Usage:
- The best way to file is to apply a bit of pressure on areas of thickened or calloused skin, filing towards the midline of the foot, being careful not to over-grip the file. Avoid areas of broken or irritated skin, as filing this may cause infection.
- Start by completely drying the foot with a towel. Then hold the foot from the ankle and start from the heels. Rub the foot file a little harder in a back and forth motion.
- Move to the center of the foot and rub the foot file in circular motions here. Then move back to the sides of the heels and rub them in a back and forth motion.
- Now move to the toes and rub the outer side of thumb and pinky finger a little harder in back and forth motions. Rub the fingers in small circular motions.
- Finally, rub the whole foot and clean the excess dry skin with a towel.

Brand origin:
Thailand
1. PAYMENT
For your convenient online shopping with Watsons, we offer the following payment methods:
1. Cash on Delivery
2. Payment in advance by the following methods:
- Local ATM card (Your card need
- Credit card / Debit card / VISA / MASTER / JCB / AMEX
- eWallet: Momo
2. ORDER CANCELATION
As your order will be processed immediately once you have confirmed payment. For more assistance on cancellation, please contact us via:
- Hotline: 1900 989877 (9:00 - 21:00)
- Email: contactus@watsons.vn
- Website: https://www.watsons.vn/contactUs
3. DELIVERY TIME AND SHPPING FEE
We always try to deliver your order as soon as possible with following delivery types:
1. Home Delivery
- Free shipping for order from 249.000 VND
- Order under 249.000 VND will have shipping fee:
▪ Within Ho Chi Minh City: 19.000 VND. Expected delivery time from 1-3 business days.
▪ Other cities / provinces in Vietnam: 49.000 VND. Expected delivery time 3-7 business days.
2. Click & Collect:
- Free shipping with expected delivery from 3-5 business days.
4. RETURN & REFUND
We always try to make sure that items delivered to you are of a good condition and correct. However, the following types of items can be put up for return and refund request:
- Wrong type of product, wrong dimension or color, missing items vs initial order
- Expired items
- Defective item during delivery
The customer may return the order within 14 days from the date receiving the order following attached Return form in the order:
- Return order needs to have all items in initial order, including gifts, coupons, and vouchers attached (if any).
- All items item must remains unopened, unused, no defective and dirt on packaging.
- After the order is returned successfully and checked following above condition, the refund is sent to customer within 30 business days.
Please contact Customer Service at 1900 989877 (9:00-21:00) or Email: contactus@watsons.vn for further information.
REVIEW
p**
2023/03/14
Lần đầu tiên mình biết đến cây chà gót chân, hồi giờ không quan tâm gì đến nên gót chân mình chai sần lắm luôn. Ngồi lướt lướt app Watsons thấy cây chà gót chân này hay quá nên mua về xài thử. Thích lắm nha mọi người, chà gót chân vừa giúp loại bỏ vùng da chai sần, khô ráp, vừa massage chân.