Tsubaki Premium Repair Hair Mask 180g
Product Details

About This Shop

Promotion

PAYMENT & DELIVERY
Description
Tsubaki Premium Repair Hair Mask 180g

Tsubaki Premium Repair Hair Mask 180g penetrates into hair to repair damage and deeply moisturize with its innovative infiltration technology, leaving your locks smooth from roots to tips and with a pleasant camellia scent. It creates finest hair quality similar to post beauty salon treatment. It is able to widen and loosen the cuticles to make path for the beauty ingredients to penetrate and nurture your hair to the tips. Deep infiltration of rich beauty ingredients with excellent damage repair and moisturizing effect.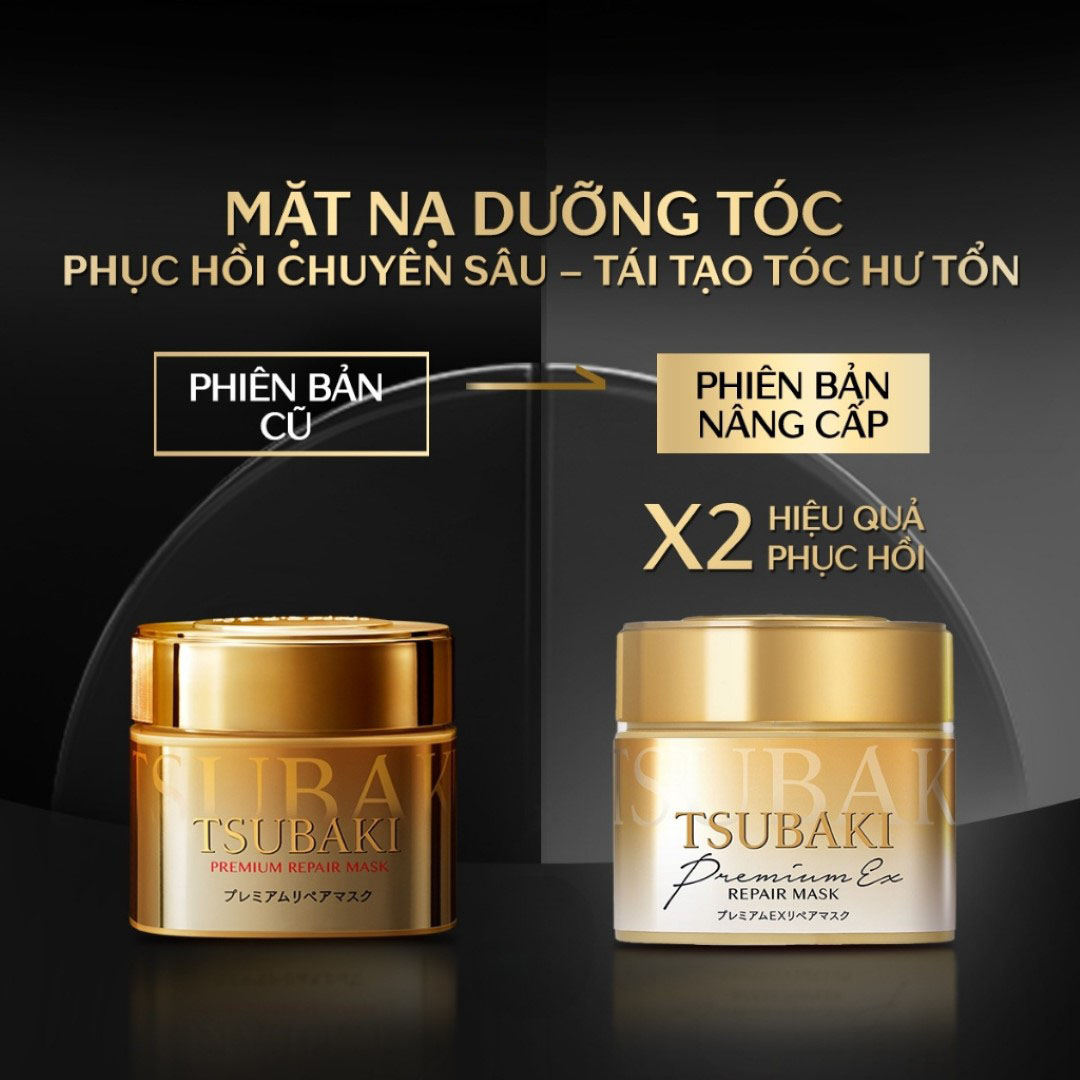 Main ingredients and uses:
Through "innovative penetration technology" can effectively enhance the absorption of cosmetic ingredients, so that an immediate and efficient beauty ingredients penetrate into the hair, without waiting for time, show shiny supple hair.
Zero wait: Rinse immediately after applying the hair can also play its repair care efficacy.
Beauty ingredients penetrate into the hair immediately after use, so there is no need for any waiting time.
Immediately after the hair cuticle closed and then hair beauty ingredients tightly locked in the hair, the gloss directly penetrate the severely damaged hair tail, so that the hair velvety smooth and smooth, showing a long lasting effect of counter hair care.
Rich beauty ingredients include camellia oil, pearl protein, osmotic amino acids, hyaluronic acid, royal jelly.
Elegant and gorgeous topical Camellia honey to reconcile the aroma of aroma fruit.
No added preservatives, no pigment, mild and no need to protect the scalp and hair.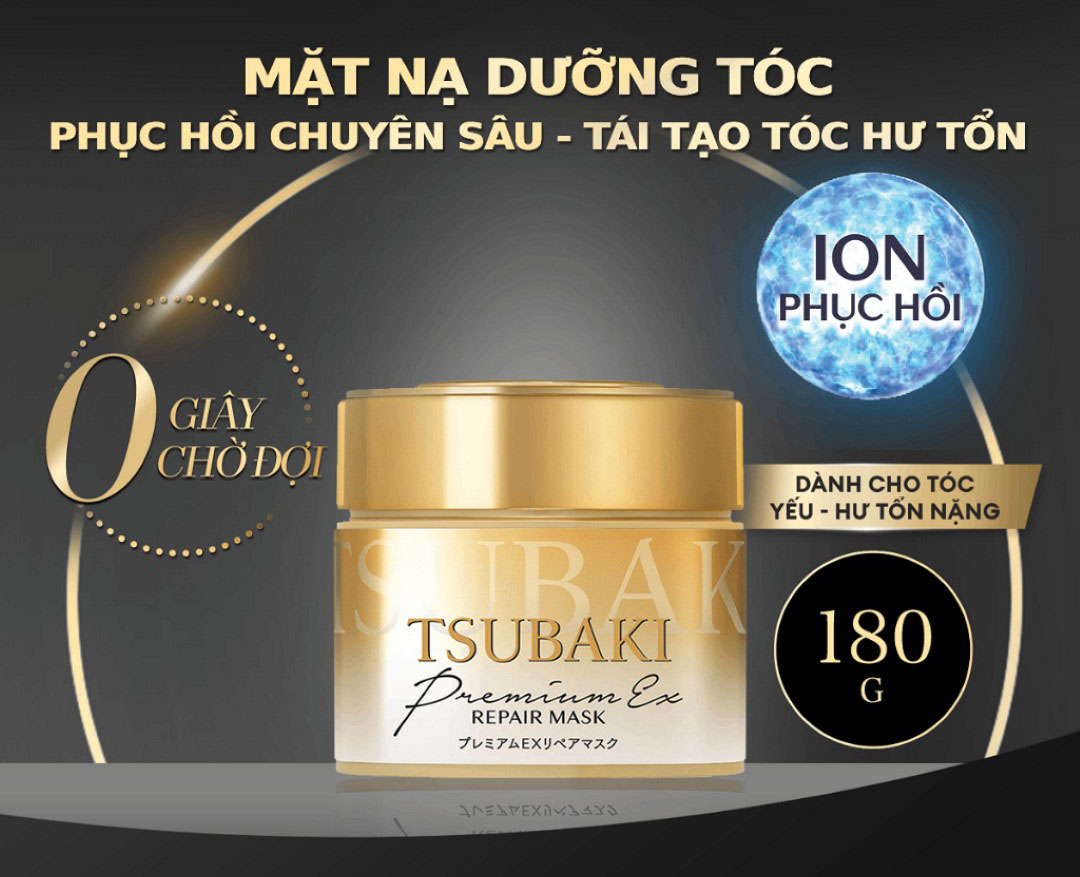 Used for:
Tsubaki Premium Repair Hair Mask 180g used for all hair types.

Usage:
After shampooing, squeeze excess moisture from the hair.
Apply appropriate amount of hair mask to the hair, and rinse thoroughly after applying to the entire length of the hair.
Rinse immediately can also have enough repair care efficacy.
The product has a strong hair effect.
It is recommended to use once or twice a week.

Brand origin:
Japan
Width
5.7
Height
5.7
Depth
5.7
1. PAYMENT
For your convenient online shopping with Watsons, we offer the following payment methods:
1. Cash on Delivery
2. Payment in advance by the following methods:
- Local ATM card (Your card need
- Credit card / Debit card / VISA / MASTER / JCB / AMEX
- eWallet: Momo
2. ORDER CANCELATION
As your order will be processed immediately once you have confirmed payment. For more assistance on cancellation, please contact us via:
- Hotline: 1900 989877 (9:00 - 21:00)
- Email: contactus@watsons.vn
- Website: https://www.watsons.vn/contactUs
3. DELIVERY TIME AND SHPPING FEE
We always try to deliver your order as soon as possible with following delivery types:
1. Home Delivery
- Free shipping for order from 249.000 VND
- Order under 249.000 VND will have shipping fee:
▪ Within Ho Chi Minh City: 19.000 VND. Expected delivery time from 1-3 business days.
▪ Other cities / provinces in Vietnam: 49.000 VND. Expected delivery time 3-7 business days.
2. Click & Collect:
- Free shipping with expected delivery from 3-5 business days.
4. RETURN & REFUND
We always try to make sure that items delivered to you are of a good condition and correct. However, the following types of items can be put up for return and refund request:
- Wrong type of product, wrong dimension or color, missing items vs initial order
- Expired items
- Defective item during delivery
The customer may return the order within 14 days from the date receiving the order following attached Return form in the order:
- Return order needs to have all items in initial order, including gifts, coupons, and vouchers attached (if any).
- All items item must remains unopened, unused, no defective and dirt on packaging.
- After the order is returned successfully and checked following above condition, the refund is sent to customer within 30 business days.
Please contact Customer Service at 1900 989877 (9:00-21:00) or Email: contactus@watsons.vn for further information.