Silkygirl Magic Dream Fragrance Mist For Hair & Body 50ml
Product Details

About This Shop

Promotion

PAYMENT & DELIVERY
Description
Silkygirl Magic Dream Fragrance Mist For Hair & Body 50ml
Silkygirl Magic Dream Fragrance Mist For Hair & Body 50ml is a combination of body lotions and perfumes, the 2-in-1 feature-rich product line both fragrances and nourishes your skin. fragile from unnecessary irritation that conventional perfumes do not have. The product is suitable for office girls who want to keep the fragrance combined with mild skin care. Silkygirl Magic Dream Fragrance Mist is a sensual blend of luscious white flowers and lychee notes that finishes with rich, warm musky ambery notes. Gently spritz on this fragrance mist around your hair and body to stay refresh and energetic throughout the day.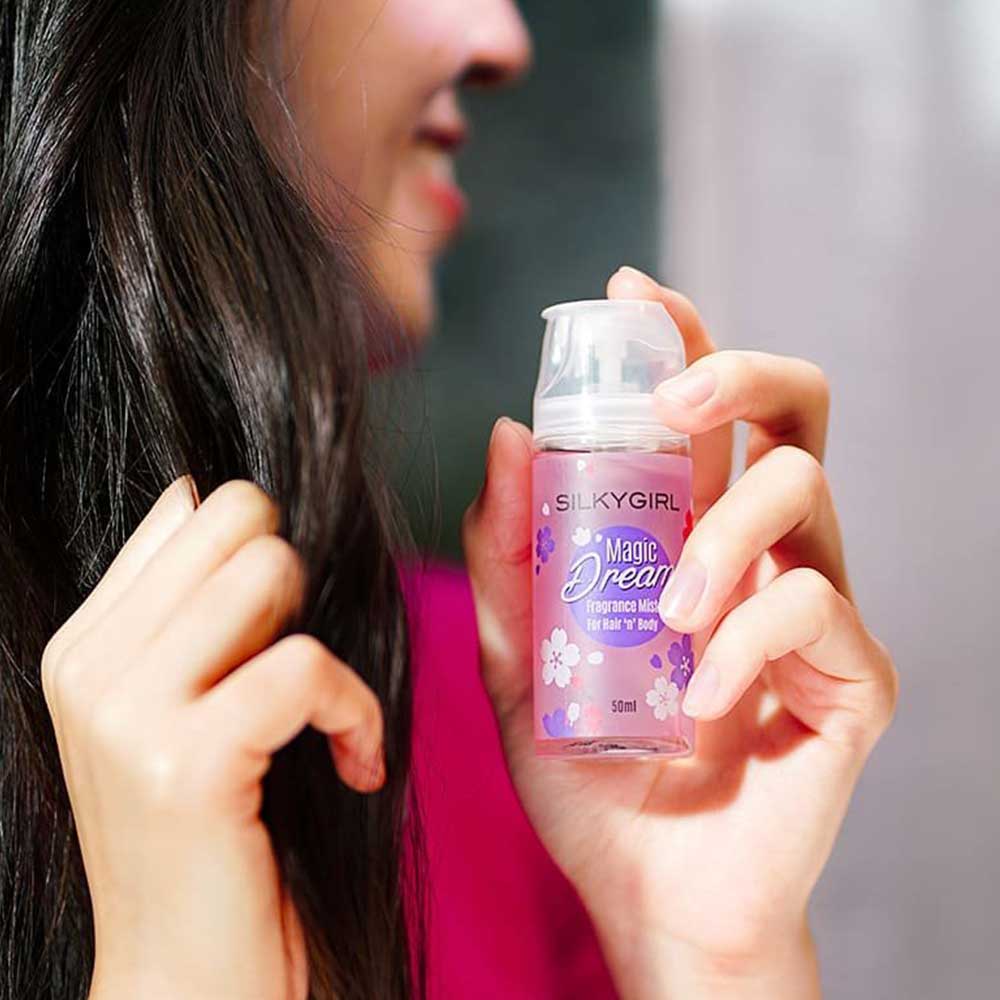 Main ingredients and uses:
- The product does not have a concentration of concentrated essential oils like perfume, so the "baby" is extremely suitable for those who are going to school, or do not like strong smells, or you simply want an easy body fragrance. bear, characteristically, can be used every day.
- Moisturizing ingredients extracted from plants, helping to hydrate the skin, nourish healthy skin every day, especially in hot weather.
- Save incense for a long and refreshing time. If sprayed on hair can save the fragrance for up to a day.
- Compact fragrance design, suitable to carry anytime, anywhere.
- Silkygirl Fragrance Mist collection for Vietnamese youth includes 02 new scents, cool but no less special, will definitely "cut the hearts" of girls:
1 - Pure Bliss: Pure Joy - Mix of sweet and indulgent floral scent and fresh tropical fruit scent.
2 - Magic Dream: Summer Dream - A sensual blend of white floral and fabric scent. The final scent is a passionate, warm amber aroma.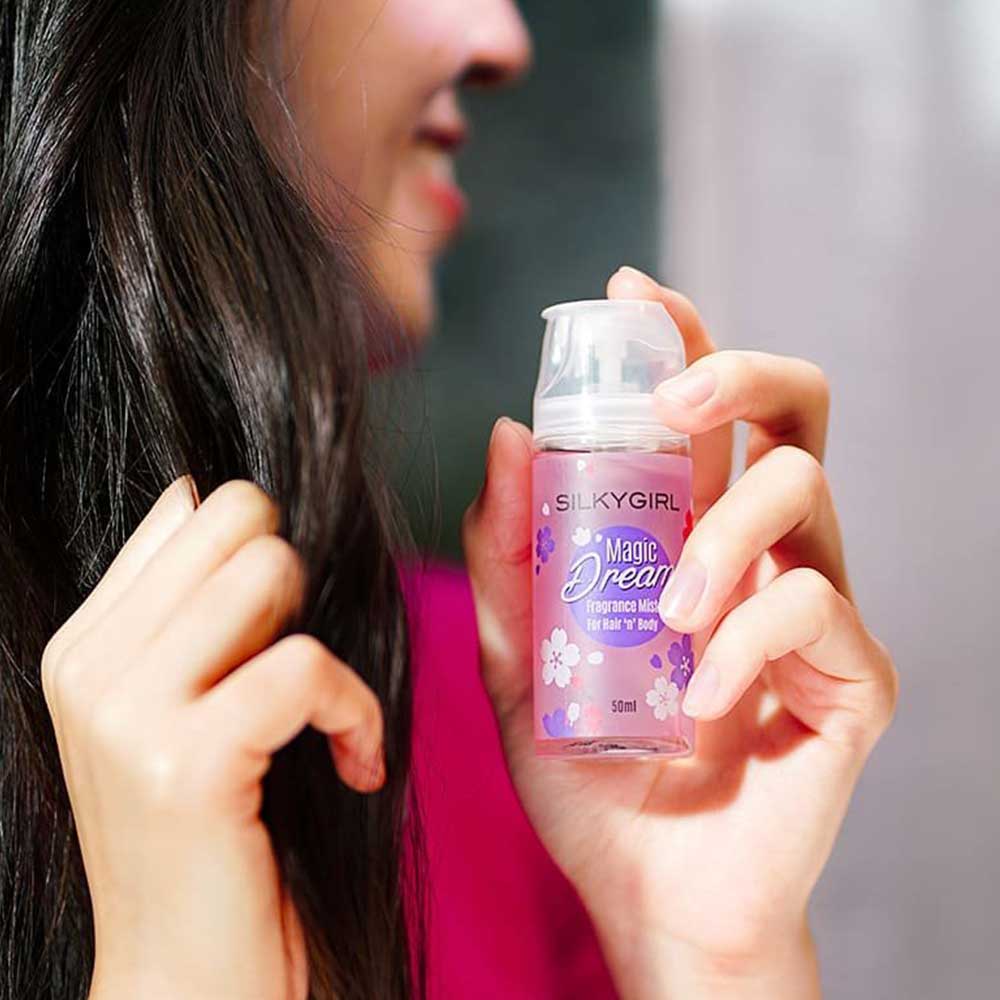 Used for:
Silkygirl Magic Dream Fragrance Mist For Hair & Body 50ml used for everyone, all skin types.

Usage:
- Spray the product on skin areas with many blood vessels such as nape, behind ears, wrists.
- Can be sprayed on hair for longer aroma.
- You can spray into the air in front of you and step forward to let the scent evenly spread and stay on for longer.
- Take care not to use too much at a time.
Place of Origin
Malaysia
Ingredients
Alcohol Denat. (Denatured Alcohol), Aqua, Propylene Glycol, Fragrance, Glycerin, Ppg-20 Methyl Glucose Ether, Soyethyl Morpholinium Ethosulfate, Sorbitan Oleate Decylglucoside Crosspolymer, Ethylhexylglycerin, Peg-40 Hydrogenated Castor Oil,…
Storage Information
Dry, cool place. Avoid direct sunlight
Width
3.6
Height
9.7
Depth
3.6
1. PAYMENT
For your convenient online shopping with Watsons, we offer the following payment methods:
1. Cash on Delivery
2. Payment in advance by the following methods:
- Local ATM card (Your card need
- Credit card / Debit card / VISA / MASTER / JCB / AMEX
- eWallet: Momo
2. ORDER CANCELATION
As your order will be processed immediately once you have confirmed payment. For more assistance on cancellation, please contact us via:
- Hotline: 1900 989877 (9:00 - 21:00)
- Email: contactus@watsons.vn
- Website: https://www.watsons.vn/contactUs
3. DELIVERY TIME AND SHPPING FEE
We always try to deliver your order as soon as possible with following delivery types:
1. Home Delivery
- Free shipping for order from 249.000 VND
- Order under 249.000 VND will have shipping fee:
▪ Within Ho Chi Minh City: 19.000 VND. Expected delivery time from 1-3 business days.
▪ Other cities / provinces in Vietnam: 49.000 VND. Expected delivery time 3-7 business days.
2. Click & Collect:
- Free shipping with expected delivery from 3-5 business days.
4. RETURN & REFUND
We always try to make sure that items delivered to you are of a good condition and correct. However, the following types of items can be put up for return and refund request:
- Wrong type of product, wrong dimension or color, missing items vs initial order
- Expired items
- Defective item during delivery
The customer may return the order within 14 days from the date receiving the order following attached Return form in the order:
- Return order needs to have all items in initial order, including gifts, coupons, and vouchers attached (if any).
- All items item must remains unopened, unused, no defective and dirt on packaging.
- After the order is returned successfully and checked following above condition, the refund is sent to customer within 30 business days.
Please contact Customer Service at 1900 989877 (9:00-21:00) or Email: contactus@watsons.vn for further information.