Revox B77 Just Salicylic Acid 2% Peeling Solution 30ml
Product Details

About This Shop

Promotion

PAYMENT & DELIVERY
Description
Revox B77 Just Salicylic Acid 2% Peeling Solution 30ml

Revox B77 Just Salicylic Acid 2% Peeling Solution 30ml belongs to a skin care line created with outstanding ingredients and a simple formula that every customer can quickly feel. receive. This product line gives your skin visible results. The product contains the main ingredient, Salicylic Acid (BHA), easily acts on the pores, quickly pushing dirt and sebum to the surface of the skin.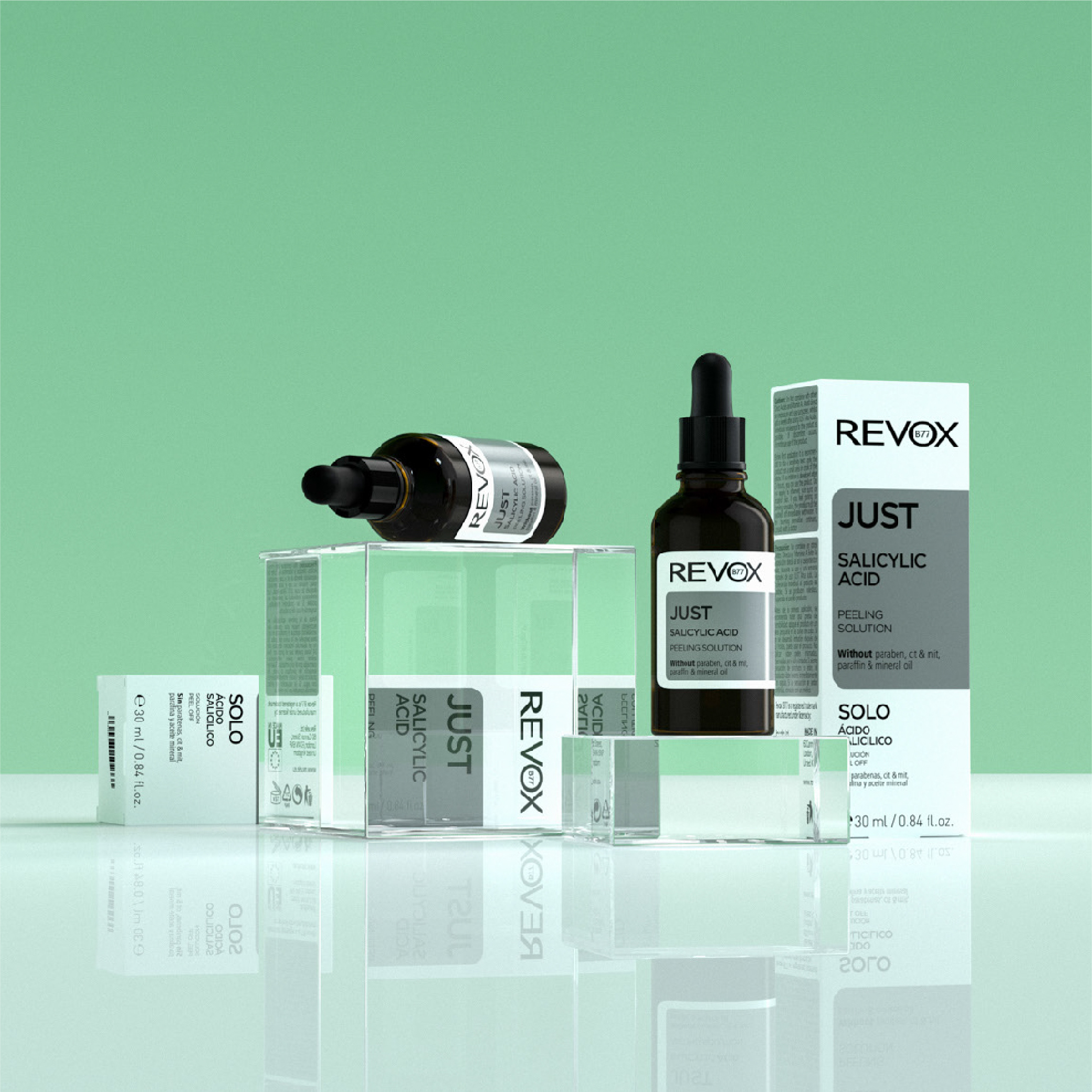 Main ingredients and uses:
- Salicylic Acid is a Beta Hydroxy Acid (BHA), derived from natural sources such as willow tree bark, wintergreen leaves, or sweet birch bark.
- Salicylic Acid is an effective exfoliant, which has the ability to penetrate oily skin and clogged pores for a deep cleansing.
- The Acid works towards removing dead skin cells and excessive sebum, which helps reveal fresher, more even-toned skin.
- This product targets uneven and/or prone to outbreaks skin.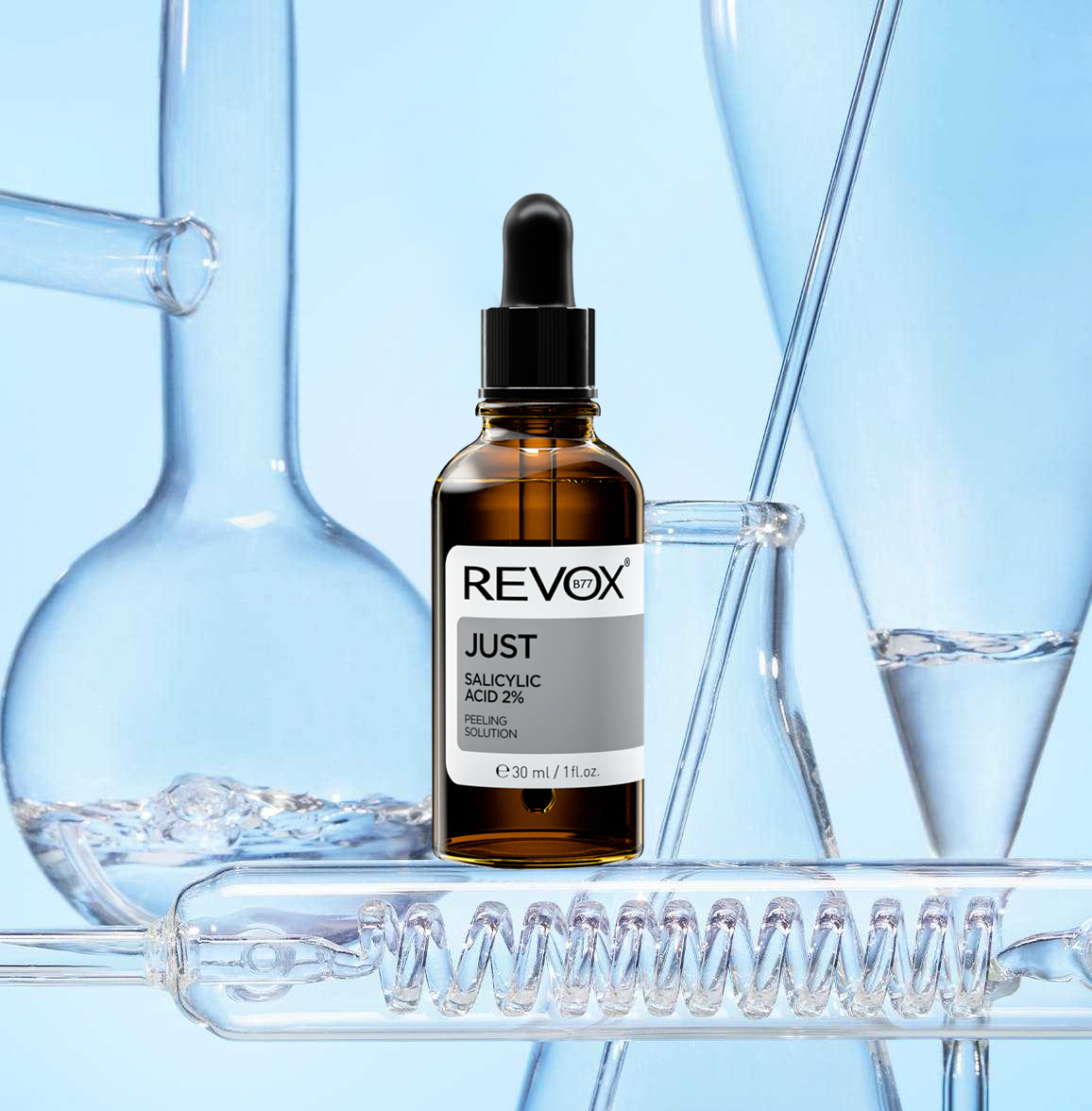 Used for:
Revox B77 Just Salicylic Acid 2% Peeling Solution 30ml used for uneven and/or prone to outbreaks skin.

Usage:
- Apply 4-5 drops in the evening to clean and completely dry skin, avoiding the eye area, and massage gently until fully absorbed. Wait until it dries before applying the next product.
- Combine with JUST Argan Oil, JUST Blend Oil or JUST Hyaluronic Acid as part of your daily beauty routine, to nourish and protect the skin from over drying.

Brand origin:
Bulgaria
Place of Origin
Bulgaria
Ingredients
Aqua, Propylene Glycol, Salicylic Acid, Xanthan Gum, PPG-1-PEG-9 Lauryl Glycol Ether, Phenoxyethanol, Potassium Hydroxide, Disodium EDTA.
Storage Information
Store at ambient temperature in a dark container. Store away from oxidizing substances e.g. Bleach. Store in seialed containers.
Width
3.5
Height
12.4
Depth
4.5
1. PAYMENT
For your convenient online shopping with Watsons, we offer the following payment methods:
1. Cash on Delivery
2. Payment in advance by the following methods:
- Local ATM card (Your card need
- Credit card / Debit card / VISA / MASTER / JCB / AMEX
- eWallet: Momo
2. ORDER CANCELATION
As your order will be processed immediately once you have confirmed payment. For more assistance on cancellation, please contact us via:
- Hotline: 1900 989877 (9:00 - 21:00)
- Email: contactus@watsons.vn
- Website: https://www.watsons.vn/contactUs
3. DELIVERY TIME AND SHPPING FEE
We always try to deliver your order as soon as possible with following delivery types:
1. Home Delivery
- Free shipping for order from 249.000 VND
- Order under 249.000 VND will have shipping fee:
▪ Within Ho Chi Minh City: 19.000 VND. Expected delivery time from 1-3 business days.
▪ Other cities / provinces in Vietnam: 49.000 VND. Expected delivery time 3-7 business days.
2. Click & Collect:
- Free shipping with expected delivery from 3-5 business days.
4. RETURN & REFUND
We always try to make sure that items delivered to you are of a good condition and correct. However, the following types of items can be put up for return and refund request:
- Wrong type of product, wrong dimension or color, missing items vs initial order
- Expired items
- Defective item during delivery
The customer may return the order within 14 days from the date receiving the order following attached Return form in the order:
- Return order needs to have all items in initial order, including gifts, coupons, and vouchers attached (if any).
- All items item must remains unopened, unused, no defective and dirt on packaging.
- After the order is returned successfully and checked following above condition, the refund is sent to customer within 30 business days.
Please contact Customer Service at 1900 989877 (9:00-21:00) or Email: contactus@watsons.vn for further information.
REVIEW
L**
2022/12/11
Chai đẹp quá. Slogan cũng hay nữa. Giá cũng rẻ. Hi vọng ok. Just enjoy life. Love yourself
H**
2022/08/03
Giao nhanh, hàng chính hãng, hạn xa. Dùng thử thấy ok