Orita Triple Rolls Tissue 50meters Pack 6s
Product Details

About This Shop

Promotion

PAYMENT & DELIVERY
Description
Orita Triple Rolls Tissue 50meters/roll Pack 6s

Orita Triple Rolls Tissue 50meters/roll is a soft, strong, low-lint offering. And it's economically as well as environmentally friendly.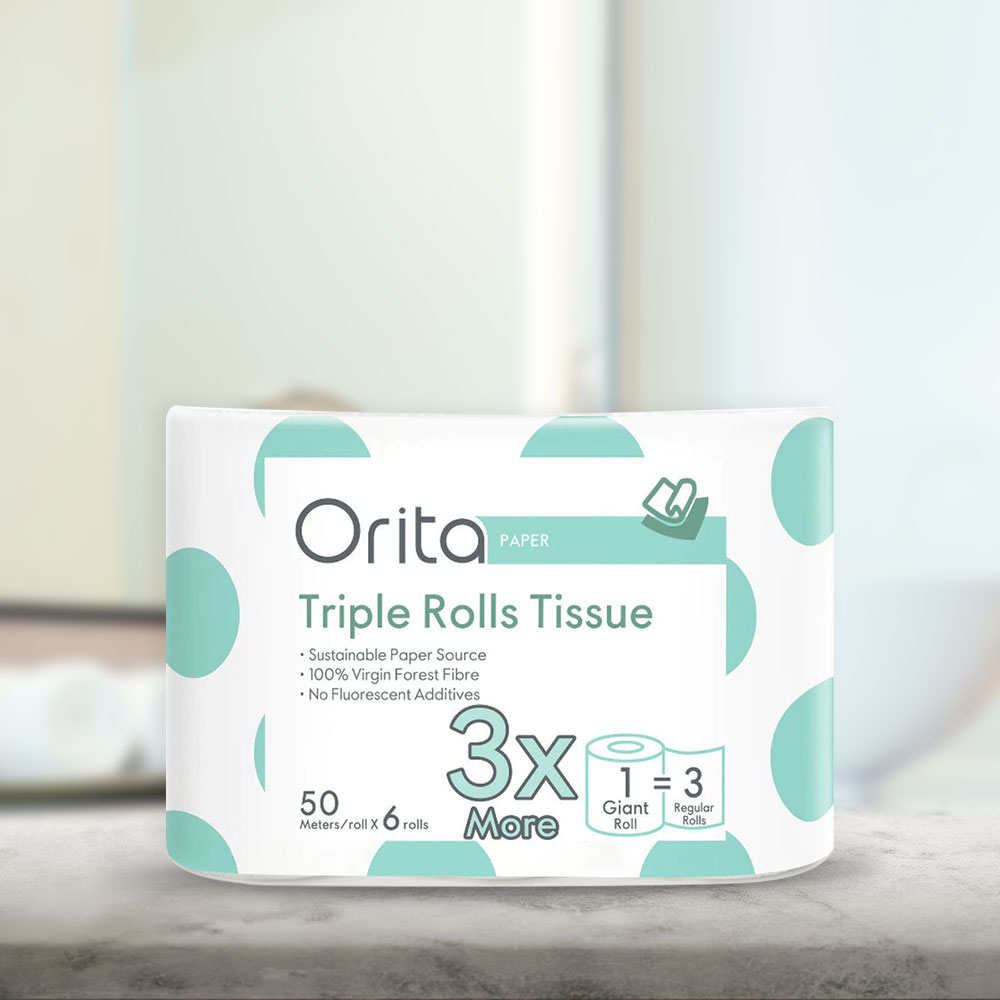 Main ingredients and uses:
- Orita Triple Rolls Tissue is made 100% virgin forest fibre with no fluorescent additives.
- It has a length of 50 meters which is triple the size of regular tissue paper rolls.
- Specifications : Sheet size 9 x 11.3cm, 2-ply, 50 meters / roll X 6 rolls.
- Soft tissues with smooth feel.

Used for:
Orita Triple Rolls Tissue 50meters/roll used for whole family.

Usage:
Install roll into toilet roll dispenser or use without dispenser.
To use pull the desired length of paper and cut from perforated mark in the roll.
After use Dispose off responsibly in a bin.

Brand origin:
Thailand
1. PAYMENT
For your convenient online shopping with Watsons, we offer the following payment methods:
1. Cash on Delivery
2. Payment in advance by the following methods:
- Local ATM card (Your card need
- Credit card / Debit card / VISA / MASTER / JCB / AMEX
- eWallet: Momo
2. ORDER CANCELATION
As your order will be processed immediately once you have confirmed payment. For more assistance on cancellation, please contact us via:
- Hotline: 1900 989877 (9:00 - 21:00)
- Email: contactus@watsons.vn
- Website: https://www.watsons.vn/contactUs
3. DELIVERY TIME AND SHPPING FEE
We always try to deliver your order as soon as possible with following delivery types:
1. Home Delivery
- Free shipping for order from 249.000 VND
- Order under 249.000 VND will have shipping fee:
▪ Within Ho Chi Minh City: 19.000 VND. Expected delivery time from 1-3 business days.
▪ Other cities / provinces in Vietnam: 49.000 VND. Expected delivery time 3-7 business days.
2. Click & Collect:
- Free shipping with expected delivery from 3-5 business days.
4. RETURN & REFUND
We always try to make sure that items delivered to you are of a good condition and correct. However, the following types of items can be put up for return and refund request:
- Wrong type of product, wrong dimension or color, missing items vs initial order
- Expired items
- Defective item during delivery
The customer may return the order within 14 days from the date receiving the order following attached Return form in the order:
- Return order needs to have all items in initial order, including gifts, coupons, and vouchers attached (if any).
- All items item must remains unopened, unused, no defective and dirt on packaging.
- After the order is returned successfully and checked following above condition, the refund is sent to customer within 30 business days.
Please contact Customer Service at 1900 989877 (9:00-21:00) or Email: contactus@watsons.vn for further information.
REVIEW
l**
2023/04/05
Mình thường hay đặt khăn giấy ở Watsons, bữa nay có thêm giấy cuộn thật là tiện quá đi! Chất giấy Watsons chưa bao giờ làm mình thất vọng, giấy được làm từ 100% sợi rừng nguyên sinh không chất phụ gia, chất giấy mềm, chắc, ít xơ vải. Điểm đặc biệt là cuộn giấy này có chiều dài 50m, gấp 3 lần kích thước cuộn giấy lụa thông thường.