Orita Concentrated Laundry Detergent 600ml
Product Details

About This Shop

Promotion

PAYMENT & DELIVERY
Description
Orita Concentrated Laundry Detergent 600ml

Orita Concentrated Laundry Detergent 600ml with 3 concentrated cleaning active ingredient, it can effectively clean dirt, sticky or stubborn stains such as mud, food, tea, coffee, sweat, blood, grease, etc.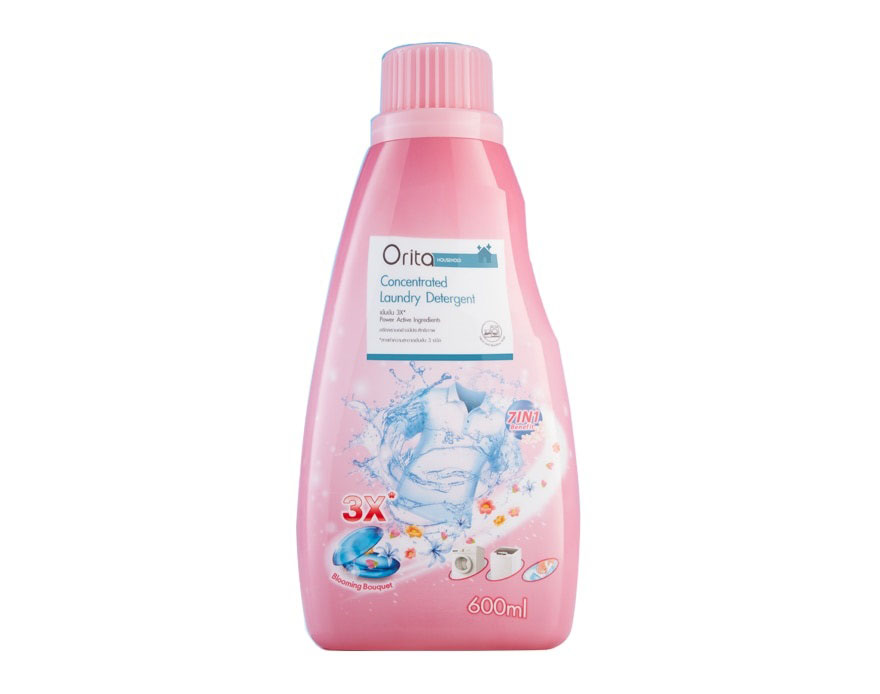 Main ingredients and uses:
- Orita Concentrated Laundry Detergent 600ml helps to removes stains more easily. And coated on fabric to prevent stains back to the fabric 7in1 Benefit 1. Clean stubborn stains 2. Anti stains reverse 3. Reduce musty smell Eliminate odors. 4. Does not leave white stains on the fabric. 5. Keep the fabric bright color 6. Can be used both by hand wash and washing machine. 7. Suitable for colored fabrics and whites.
Especially the smell of humid weather or unpleasant rainy days will no longer be a problem.
- Clothes are always "sweet, fragrant - fresh on a new day", bringing confidence and an unforgettable impression to the opposite person.
- All-in-one product that removes both hard stains and bad smells while effectively cleaning and softening your clothes.

Used for:
Orita Concentrated Laundry Detergent 600ml used for whole family.

Usage:
- Handwash: pour 50ml of washing waterfor clothing 5-10 pieces. For stubborn stains, apply detergent directly to the stain, soak for 5 minutes, then wash as usual. Rinse with clean water 2-3 times.
- Machine wash: Put clothes in the washing machine (separate colored clothes and white clothes). Pour 50ml of washing waterfor clothing 5-10 pieces. For very dirty clothing use it in more concentrated ratio. Hang clothes after washing in a dry place.

Brand origin:
Thailand
Place of Origin
Thailand
Product Usage
See the usage in the long description
Ingredients
Aqua, Linear Alkylbenzene Sulfonate, Sodium Salt, Sodium Laureth Sulfate, Sodium Chloride, Cocamide DEA, Sodium Polyacrylate, Parfum, Trisodium Dicarboxymethyl Alaninate, Citric Acid, Disodium Distyrylbiphenyl Disulfonate, Magnesium Nitrate,…
Storage Information
Dry, cool place, avoid direct sunlight
Width
2.4
Height
13
Depth
7
1. PAYMENT
For your convenient online shopping with Watsons, we offer the following payment methods:
1. Cash on Delivery
2. Payment in advance by the following methods:
- Local ATM card (Your card need
- Credit card / Debit card / VISA / MASTER / JCB / AMEX
- eWallet: Momo
2. ORDER CANCELATION
As your order will be processed immediately once you have confirmed payment. For more assistance on cancellation, please contact us via:
- Hotline: 1900 989877 (9:00 - 21:00)
- Email: contactus@watsons.vn
- Website: https://www.watsons.vn/contactUs
3. DELIVERY TIME AND SHPPING FEE
We always try to deliver your order as soon as possible with following delivery types:
1. Home Delivery
- Free shipping for order from 249.000 VND
- Order under 249.000 VND will have shipping fee:
▪ Within Ho Chi Minh City: 19.000 VND. Expected delivery time from 1-3 business days.
▪ Other cities / provinces in Vietnam: 49.000 VND. Expected delivery time 3-7 business days.
2. Click & Collect:
- Free shipping with expected delivery from 3-5 business days.
4. RETURN & REFUND
We always try to make sure that items delivered to you are of a good condition and correct. However, the following types of items can be put up for return and refund request:
- Wrong type of product, wrong dimension or color, missing items vs initial order
- Expired items
- Defective item during delivery
The customer may return the order within 14 days from the date receiving the order following attached Return form in the order:
- Return order needs to have all items in initial order, including gifts, coupons, and vouchers attached (if any).
- All items item must remains unopened, unused, no defective and dirt on packaging.
- After the order is returned successfully and checked following above condition, the refund is sent to customer within 30 business days.
Please contact Customer Service at 1900 989877 (9:00-21:00) or Email: contactus@watsons.vn for further information.
REVIEW
P**
2023/07/18
Hàng chất, giá rẻ