Nolja Aloe Vera Mask 24/7 1sheet
Product Details

About This Shop

Promotion

PAYMENT & DELIVERY
Description
Nolja Aloe Vera Mask 24/7 20ml

Nolja Aloe Vera Mask 24/7 is the perfect quick and easy at home facial treatment. Skin will be left plump, smooth and full of moisture, smooth and soft, making this mask an ideal choice for use before applying makeup.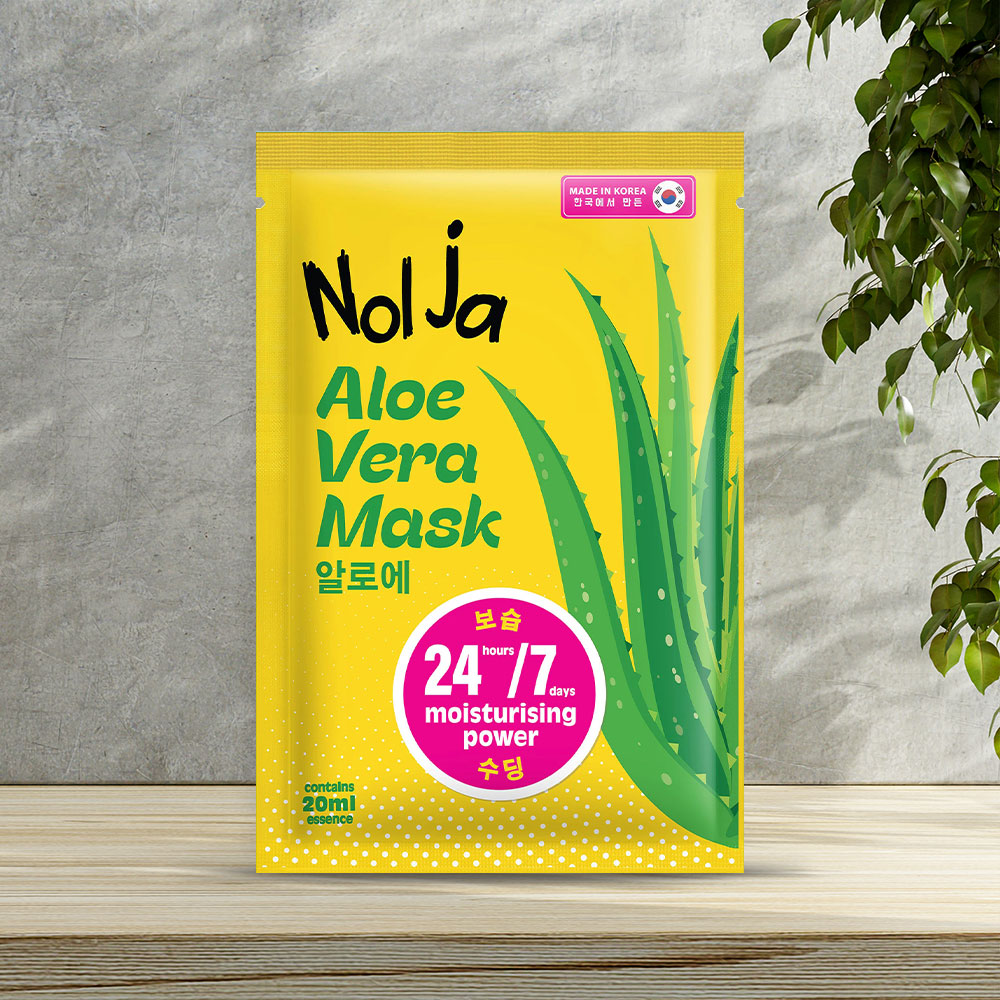 Main ingredients and uses:
- Nolja Aloe Vera Mask 24/7 1sheet is formulated with aloe vera extract and violet flower moisturising complex to soothe skin and relive discomfort.
- Aloe vera help moisturize and soothe skin. Aloe vera can help treat a range of conditions, such as acne, eczema, and rosacea.
- Violet flower contain salicylic acid, which helps with oily skin, as well as has a moisturizing capability that works great for dry, sensitive skin.
- Extra Soft Sheet Mask are extremely moisturizing dry skin and keep face feeling fresh, soft, smooth, and hydrated.
- Made from much love ingredients that are totally safe for your skin, Nolja mask provide exceptional moisturising power.

Used for:
Nolja Aloe Vera Mask 24/7 20ml used for all skin types.

Usage:
Apply the mask onto the face, leave for 15-20 minutes and then remove. Gently massage face until the remaining essence is fully absorbed. No need to rinse.

Brand origin:
Thailand
Product Usage
See the usage in the long description
Width
8
Height
19.5
Depth
8
1. PAYMENT
For your convenient online shopping with Watsons, we offer the following payment methods:
1. Cash on Delivery
2. Payment in advance by the following methods:
- Local ATM card (Your card need
- Credit card / Debit card / VISA / MASTER / JCB / AMEX
- eWallet: Momo
2. ORDER CANCELATION
As your order will be processed immediately once you have confirmed payment. For more assistance on cancellation, please contact us via:
- Hotline: 1900 989877 (9:00 - 21:00)
- Email: contactus@watsons.vn
- Website: https://www.watsons.vn/contactUs
3. DELIVERY TIME AND SHPPING FEE
We always try to deliver your order as soon as possible with following delivery types:
1. Home Delivery
- Free shipping for order from 249.000 VND
- Order under 249.000 VND will have shipping fee:
▪ Within Ho Chi Minh City: 19.000 VND. Expected delivery time from 1-3 business days.
▪ Other cities / provinces in Vietnam: 49.000 VND. Expected delivery time 3-7 business days.
2. Click & Collect:
- Free shipping with expected delivery from 3-5 business days.
4. RETURN & REFUND
We always try to make sure that items delivered to you are of a good condition and correct. However, the following types of items can be put up for return and refund request:
- Wrong type of product, wrong dimension or color, missing items vs initial order
- Expired items
- Defective item during delivery
The customer may return the order within 14 days from the date receiving the order following attached Return form in the order:
- Return order needs to have all items in initial order, including gifts, coupons, and vouchers attached (if any).
- All items item must remains unopened, unused, no defective and dirt on packaging.
- After the order is returned successfully and checked following above condition, the refund is sent to customer within 30 business days.
Please contact Customer Service at 1900 989877 (9:00-21:00) or Email: contactus@watsons.vn for further information.
REVIEW
K**
2023/02/06
Mặt nạ đắp lên mát da, dùng xong mình không rửa lại nhưng không bị cảm giác nhờn rích trên da lâu. Đắp tầm 3 lần/tuần thì da được cấp ẩm tốt, không bị khô như trước. Sẽ tiếp tục ủng hộ mặt nạt này