Naturals By Watsons True Natural Lavender Hand Cream 30ml
Product Details

About This Shop

Promotion

PAYMENT & DELIVERY
Description
Naturals By Watsons True Natural Lavender Hand Cream 30ml

Naturals By Watsons True Natural Lavender Hand Cream 30ml not only helps keep your hands clean, but also has deep moisturizing capabilities for soft, smooth hands. Products originating from Thailand, thoroughly researched and certified dermatologically. Contains extracts from lavender oil, does not contain parabens, sulfates... hand wash cream completely safe for your skin and health. Pure Beauty Global Awards 2023 was organized by the UK magazine – Pure Beauty Magazine.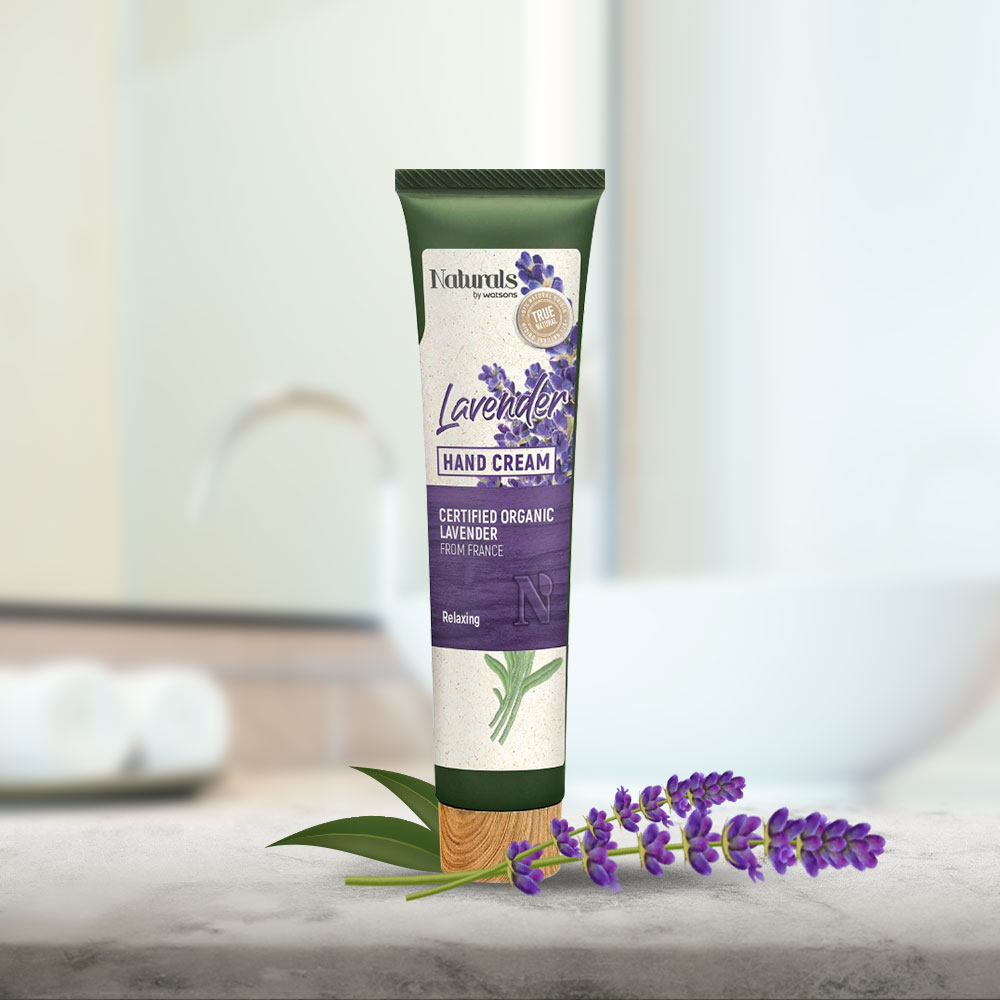 Main ingredients and uses:
- Naturals By Watsons True Natural Lavender Hand Cream 30ml soothes and nourishes dry skin, leaving hands feeling softer and smoother.
- Keep out of reach of children. Avoid direct contact with eyes. If contact occurs, rinse immediately with water.
- If any irritation develops, discontinue use and consult a doctor if necessary.

Used for:
Naturals By Watsons True Natural Lavender Hand Cream 30ml used for all skin types.

Usage:
Apply an appropriate amount of Naturals by Watsons Lavender Hand cream onto your hands. Massage gently into skin until fully absorbed, For optimal results, use it twice per day or as needed in conjunction with the rest of the Lavender Bath Body Care range.

Brand origin:
Thailand
Place of Origin
Thailand
Product Usage
See the usage in the long description
Ingredients
Aqua, Caprylic/Capric Triglyceride, Isopropyl Myristate, Cetyl Alcohol, Glycerin, Cetearyl Alcohol, Glyceryl Stearate, Peg-100 Stearate, Phenoxyethanol, Parfum, Chlorphenesin, Triethanolamine, Acrylates/C10-30 Alkyl Acrylate Crosspolymer, Butyrosperm
Storage Information
Dry, Cool Place, Avoid Direct Sunlight
Width
5.07
Height
21
Depth
6.28
1. PAYMENT
For your convenient online shopping with Watsons, we offer the following payment methods:
1. Cash on Delivery
2. Payment in advance by the following methods:
- Local ATM card (Your card need
- Credit card / Debit card / VISA / MASTER / JCB / AMEX
- eWallet: Momo
2. ORDER CANCELATION
As your order will be processed immediately once you have confirmed payment. For more assistance on cancellation, please contact us via:
- Hotline: 1900 989877 (9:00 - 21:00)
- Email: contactus@watsons.vn
- Website: https://www.watsons.vn/contactUs
3. DELIVERY TIME AND SHPPING FEE
We always try to deliver your order as soon as possible with following delivery types:
1. Home Delivery
- Free shipping for order from 249.000 VND
- Order under 249.000 VND will have shipping fee:
▪ Within Ho Chi Minh City: 19.000 VND. Expected delivery time from 1-3 business days.
▪ Other cities / provinces in Vietnam: 49.000 VND. Expected delivery time 3-7 business days.
2. Click & Collect:
- Free shipping with expected delivery from 3-5 business days.
4. RETURN & REFUND
We always try to make sure that items delivered to you are of a good condition and correct. However, the following types of items can be put up for return and refund request:
- Wrong type of product, wrong dimension or color, missing items vs initial order
- Expired items
- Defective item during delivery
The customer may return the order within 14 days from the date receiving the order following attached Return form in the order:
- Return order needs to have all items in initial order, including gifts, coupons, and vouchers attached (if any).
- All items item must remains unopened, unused, no defective and dirt on packaging.
- After the order is returned successfully and checked following above condition, the refund is sent to customer within 30 business days.
Please contact Customer Service at 1900 989877 (9:00-21:00) or Email: contactus@watsons.vn for further information.
REVIEW
K**
2023/04/05
Cực kỳ thích tuýp kem dưỡng tay của Naturals by Watsons, đặc biệt là dòng lavender. Mùi hương hoa lavender tạo sự thoải mái, dễ chịu. Một ngày mình thoa kem này lên tay mấy lần, vừa dưỡng ẩm cho tay, vừa giúp mình relax bởi mùi hương lavender.
l**
2023/02/06
Yêu thích kem dưỡng tay Naturals by Watsons hương hoa cúc lắm nay chuyển qua dùng thử hương lavender thì còn thích hơn. Mùi lavender rất tự nhiên không bị nồng gắt quá, và thơm kiểu thư giãn dễ chịu. Mình hay dùng kem dưỡng tay này trước khi đi ngủ, sáng thức dậy vẫn còn mùi thơm thoang thoảng nha. Dưỡng tay và dưỡng móng chỗ khô nứt rất tốt. Mỹ phẩm thiên nhiên rất an toàn