Malissa Kiss Happy Sundae Perfume Mist 88ml
Product Details

About This Shop

Promotion

PAYMENT & DELIVERY
Description
Malissa Kiss Happy Sundae Perfume Mist 88ml
Malissa Kiss Happy Sundae Perfume Mist 88ml represents a girl's wit and cheerfulness. The fragrance of Lemon mixed with the wonderful combination of Rose and Jasmine will make people love her more. The product in the Sunshine collection brings you the fresh "Fragrance from Tropical Paradise".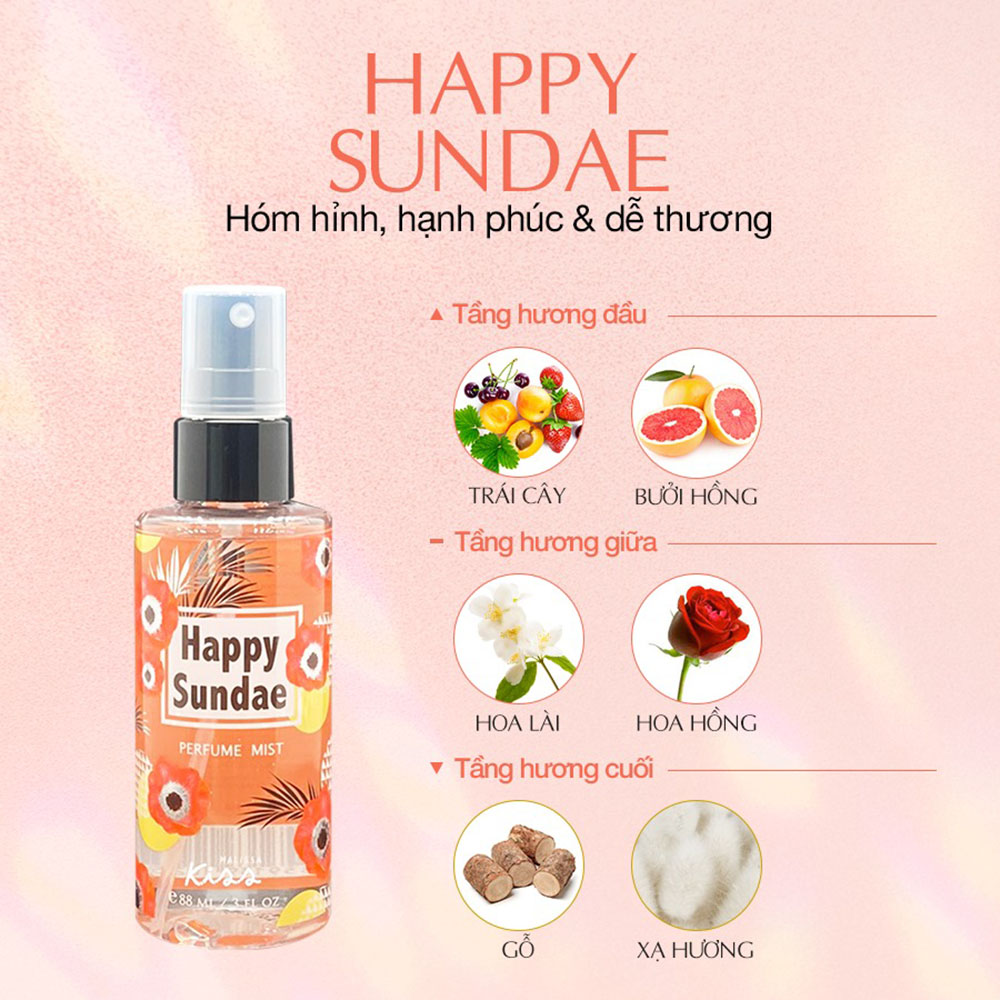 Main ingredients and uses:
- The formula "Perfume Mist" is based on the principle of building a perfume with an equivalent concentration of Eau De Toillet (EDT) with a concentration of 6% perfume oil.
- Fragrance essential oils are researched exclusively at the brand's independent laboratory in Thailand.
- Mist line with fragrance more concentrated than Body Lotion.
- Eye-catching, compact bottle design is easy to carry with you, saving costs.
- Happy Sundae is a combination of pink grapefruit, synthetic fruit, jasmine, rose, wood, musk.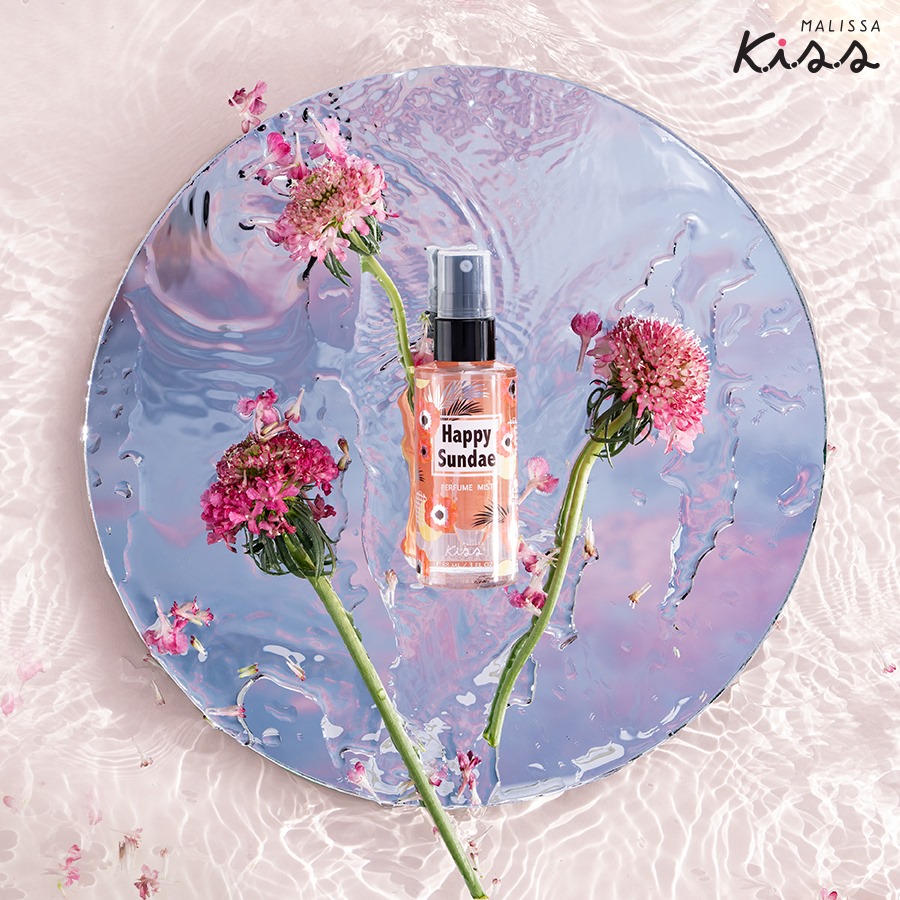 Used for:
Malissa Kiss Happy Sundae Perfume Mist 88ml used for all skin types.

Usage:
- Keep 20-30cm away from the skin and start spraying all over the body or where you need it.
- You can reapply several times a day if desired. It is best to use it with Malissa Kiss perfumed white body lotion to keep the scent longer and the skin to be fully moisturized as well as whiten the skin.
- For body use only, if product gets into eyes or mouth, rinse immediately with water
- Avoid spraying on white clothes that can cause yellow stains.
Place of Origin
Thailand
Ingredients
Alcohol, Water, FragRance, Propanediol
Storage Information
Dry, cool place. Avoid direct sunlight
Width
4
Height
13
Depth
4
1. PAYMENT
For your convenient online shopping with Watsons, we offer the following payment methods:
1. Cash on Delivery
2. Payment in advance by the following methods:
- Local ATM card (Your card need
- Credit card / Debit card / VISA / MASTER / JCB / AMEX
- eWallet: Momo
2. ORDER CANCELATION
As your order will be processed immediately once you have confirmed payment. For more assistance on cancellation, please contact us via:
- Hotline: 1900 989877 (9:00 - 21:00)
- Email: contactus@watsons.vn
- Website: https://www.watsons.vn/contactUs
3. DELIVERY TIME AND SHPPING FEE
We always try to deliver your order as soon as possible with following delivery types:
1. Home Delivery
- Free shipping for order from 249.000 VND
- Order under 249.000 VND will have shipping fee:
▪ Within Ho Chi Minh City: 19.000 VND. Expected delivery time from 1-3 business days.
▪ Other cities / provinces in Vietnam: 49.000 VND. Expected delivery time 3-7 business days.
2. Click & Collect:
- Free shipping with expected delivery from 3-5 business days.
4. RETURN & REFUND
We always try to make sure that items delivered to you are of a good condition and correct. However, the following types of items can be put up for return and refund request:
- Wrong type of product, wrong dimension or color, missing items vs initial order
- Expired items
- Defective item during delivery
The customer may return the order within 14 days from the date receiving the order following attached Return form in the order:
- Return order needs to have all items in initial order, including gifts, coupons, and vouchers attached (if any).
- All items item must remains unopened, unused, no defective and dirt on packaging.
- After the order is returned successfully and checked following above condition, the refund is sent to customer within 30 business days.
Please contact Customer Service at 1900 989877 (9:00-21:00) or Email: contactus@watsons.vn for further information.