Imew 04 Centella Asiatica Booster 30ml
Product Details

About This Shop

Promotion

PAYMENT & DELIVERY
Description
Imew 04 Centella Asiatica Booster 30ml

Imew 04 Centella Asiatica Booster 30ml is a booster that the additional supplement targeting skin, revitalise skin's protective barrier. Imew is a brand which everyone can mix their own perfect formula to enjoy a new skincare experience.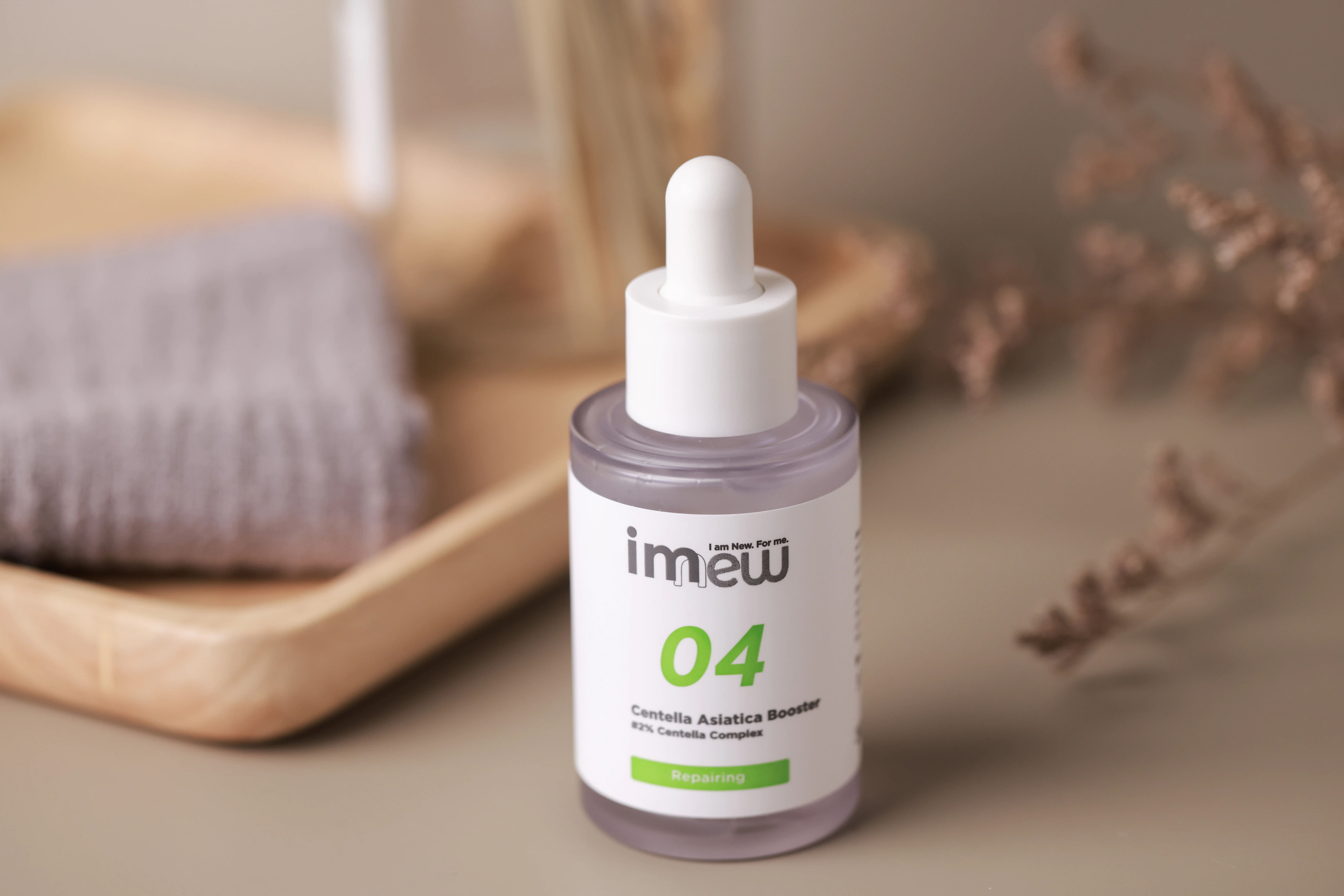 Main ingredients and uses:
- Imew 04 Centella Asiatica Booster 30ml with 2% Centella Complex to help revitalise skin's protective barrier, hydrate, repair and calm.
- Ingredients are not derived from animals. Products not tested on animals.
- Centella Asiatica is an antioxidant rich herb that's basically a magic wand for dry, itchy, red, and sensitive skin, thanks to the plant's natural properties.
- Lightweight and runny texture.
- Easily mix them with other products.
- Can also apply them directly onto your skin.
- All formulas are free from 11 harsh ingredients which may cause skin irritation and allergies.

Used for:
Imew 04 Centella Asiatica Booster 30ml used for all skin types.

Usage:
After cleansing and toning, use 2 3 drops to apply. If necessary, you can layer in multiple times or blend with base cream and other boosters for double effect.

Brand origin:
Thailand
Product Usage
See the usage in the long description
Width
8
Height
19.5
Depth
8
1. PAYMENT
For your convenient online shopping with Watsons, we offer the following payment methods:
1. Cash on Delivery
2. Payment in advance by the following methods:
- Local ATM card (Your card need
- Credit card / Debit card / VISA / MASTER / JCB / AMEX
- eWallet: Momo
2. ORDER CANCELATION
As your order will be processed immediately once you have confirmed payment. For more assistance on cancellation, please contact us via:
- Hotline: 1900 989877 (9:00 - 21:00)
- Email: contactus@watsons.vn
- Website: https://www.watsons.vn/contactUs
3. DELIVERY TIME AND SHPPING FEE
We always try to deliver your order as soon as possible with following delivery types:
1. Home Delivery
- Free shipping for order from 249.000 VND
- Order under 249.000 VND will have shipping fee:
▪ Within Ho Chi Minh City: 19.000 VND. Expected delivery time from 1-3 business days.
▪ Other cities / provinces in Vietnam: 49.000 VND. Expected delivery time 3-7 business days.
2. Click & Collect:
- Free shipping with expected delivery from 3-5 business days.
4. RETURN & REFUND
We always try to make sure that items delivered to you are of a good condition and correct. However, the following types of items can be put up for return and refund request:
- Wrong type of product, wrong dimension or color, missing items vs initial order
- Expired items
- Defective item during delivery
The customer may return the order within 14 days from the date receiving the order following attached Return form in the order:
- Return order needs to have all items in initial order, including gifts, coupons, and vouchers attached (if any).
- All items item must remains unopened, unused, no defective and dirt on packaging.
- After the order is returned successfully and checked following above condition, the refund is sent to customer within 30 business days.
Please contact Customer Service at 1900 989877 (9:00-21:00) or Email: contactus@watsons.vn for further information.
REVIEW
K**
2023/02/23
Sản phẩm có tinh chất rau má làm dịu, phục hồi da chỉ sau 1 buổi tối sử dụng, thích lắm ạ
p**
2023/02/06
Mình mới xài 1 tuần nhưng thật sự quá thích phải viết review ngay. Thành phần lành tính, tinh chất có kết cấu đặc, chỉ cần 2 pump là đủ cho cả mặt, thấm rất nhanh và cảm giác rất mát trên da, làm dịu mấy chỗ mụn đỏ rất tốt. Sản phẩm thuần chay mà bao bì cũng rất thân thiện môi trường. Mình sẽ dùng thêm mấy sản phẩm khác của hãng này