Hiruscar Combo Silicone Pro Medical Scar Care (10g+4g)
Product Details

About This Shop

Promotion

PAYMENT & DELIVERY
Description
Hiruscar Combo Silicone Pro Medical Scar Care (10g+4g)

Hiruscar Silicone Pro Scar Care is a unique, clinically proven scar gel that prevents and treats the formation of hypertrophic and keloid scars from surgery, accidents and burns. &.,&Specially formulated to improve the appearance of old and new scars in 4 weeks, it safely and effectively performs the Triple Action of lightening scar marks, flattening and softening scars, and reducing itching.
&.,&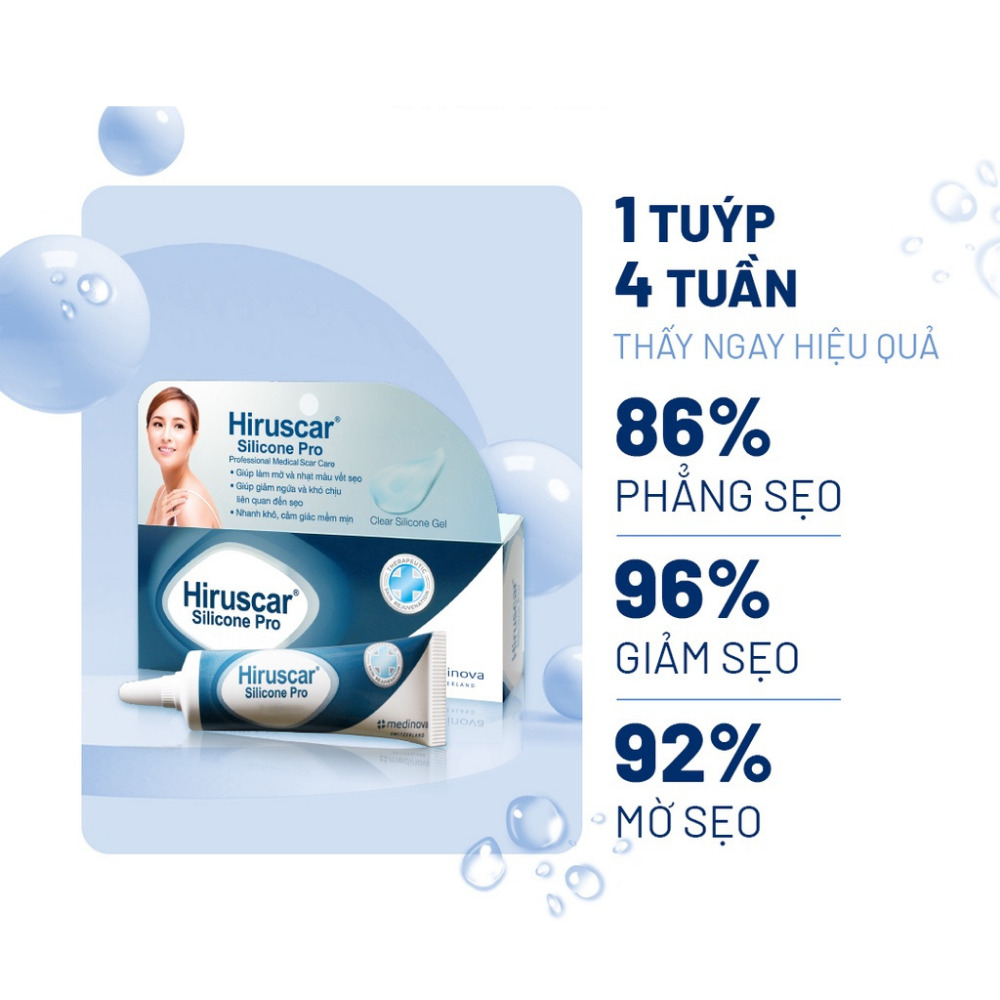 &.,&
Main ingredients and uses:
- The latest international practical guidelines on scar management recommend topical silicone gel as a first-line, non-invasive option for scarring. According to the panel of medical experts consulted for the guidelines, it&rsquo&.,&s the best option in its category for the prevention and treatment of raised and red scars.
- Hiruscar Silicone Pro&rsquo&.,&s quick-drying formula is pleasant to use, even on sensitive skin, and its excellent spreadability allows it to cover uneven, raised scars with ease.
- &.,&The silicone gel forms a protective barrier to prevent moisture from escaping through the epidermis of the skin. In scar care, maintaining hydration levels is important because the surrounding cells of dehydrated scars are stimulated to create excess collagen, leading to prominent scarring.
- Mucopolysaccharide Polysulphate (MPS): &.,&A key, patented ingredient in all Hiruscar products, the natural anti-inflammatory mucopolysaccharide polysulphate encourages the productivity of hyaluronic acid and increases hydration for improved cell regeneration. MPS ensures that skin is kept moisturised and strengthened as it heals
- The antioxidant vitamin C is often used in skin treatments to minimise hyperpigmentation. In Hiruscar Silicone Pro, it works by fading marks and reducing redness, leaving scars less noticeable.
- Vitamin E - &.,&This soothing, moisturising antioxidant provides healthy support for scars by strengthening the skin&rsquo&.,&s barrier function, increasing elasticity, boosting hydration levels and reducing inflammation.
&.,&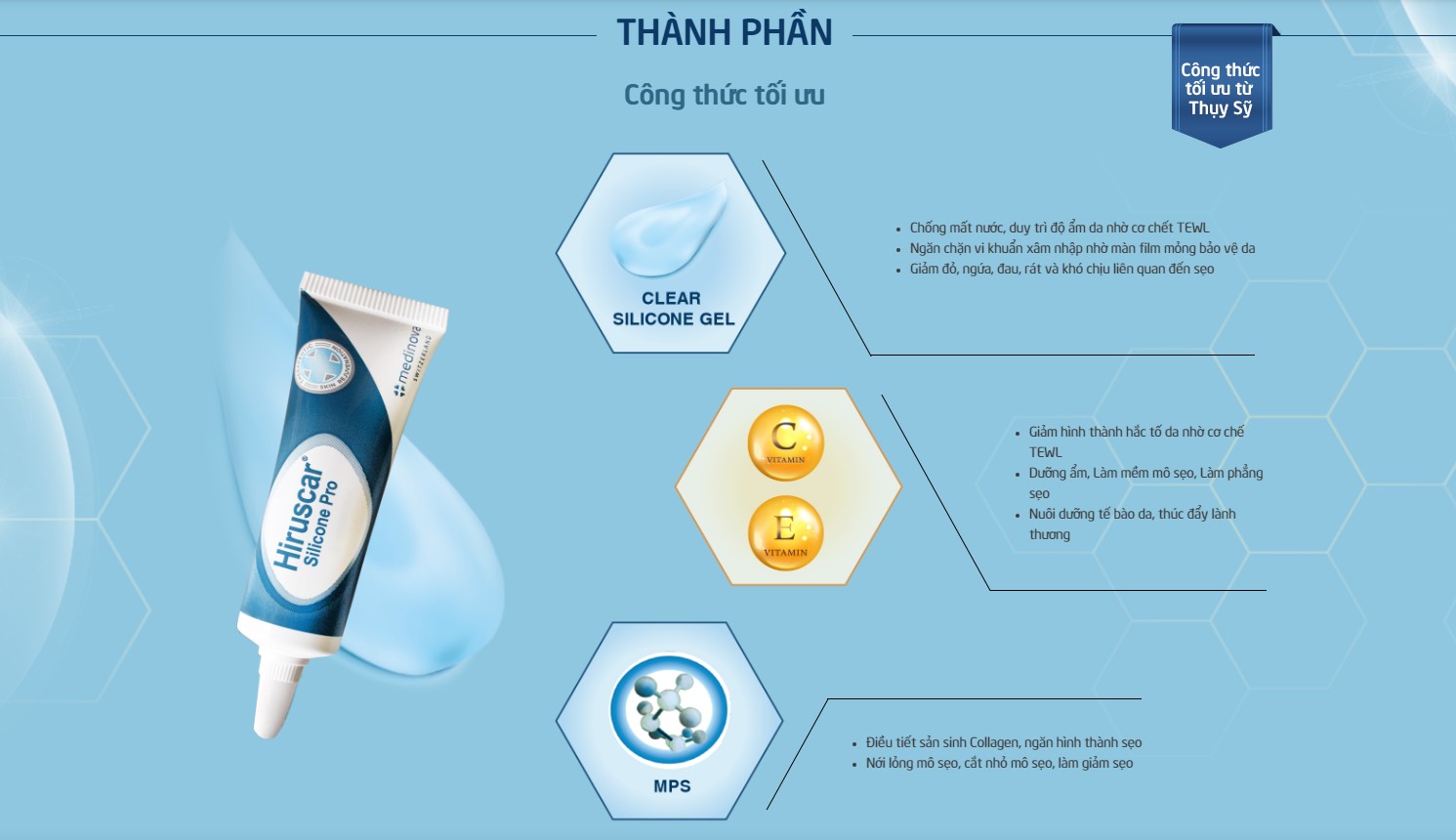 &.,&
Used for:
Hiruscar Combo Silicone Pro Medical Scar Care (10g+4g) used for acne skin.

Usage:
- Using Hiruscar Silicone Pro as early as possible to get lightening of redness and scar marks, decrease of scar volume and flattening of scars. For best results*, apply twice daily on new scars 3 &ndash&.,& 6 months until getting the satisfactory results and should be applied as soon as the wound is healed and completely closed.
- A little goes a long way. We recommend a 6mm-in-diameter pea-sized amount for an 8cm scar.

Place of origin:
Switzerland
1. PAYMENT
For your convenient online shopping with Watsons, we offer the following payment methods:
1. Cash on Delivery
2. Payment in advance by the following methods:
- Local ATM card (Your card need
- Credit card / Debit card / VISA / MASTER / JCB / AMEX
- eWallet: Momo
2. ORDER CANCELATION
As your order will be processed immediately once you have confirmed payment. For more assistance on cancellation, please contact us via:
- Hotline: 1900 989877 (9:00 - 21:00)
- Email: contactus@watsons.vn
- Website: https://www.watsons.vn/contactUs
3. DELIVERY TIME AND SHPPING FEE
We always try to deliver your order as soon as possible with following delivery types:
1. Home Delivery
- Free shipping for order from 249.000 VND
- Order under 249.000 VND will have shipping fee:
▪ Within Ho Chi Minh City: 19.000 VND. Expected delivery time from 1-3 business days.
▪ Other cities / provinces in Vietnam: 49.000 VND. Expected delivery time 3-7 business days.
2. Click & Collect:
- Free shipping with expected delivery from 3-5 business days.
4. RETURN & REFUND
We always try to make sure that items delivered to you are of a good condition and correct. However, the following types of items can be put up for return and refund request:
- Wrong type of product, wrong dimension or color, missing items vs initial order
- Expired items
- Defective item during delivery
The customer may return the order within 14 days from the date receiving the order following attached Return form in the order:
- Return order needs to have all items in initial order, including gifts, coupons, and vouchers attached (if any).
- All items item must remains unopened, unused, no defective and dirt on packaging.
- After the order is returned successfully and checked following above condition, the refund is sent to customer within 30 business days.
Please contact Customer Service at 1900 989877 (9:00-21:00) or Email: contactus@watsons.vn for further information.
REVIEW
K**
2022/08/03
bớt thâm mụn và sẹo, sử dụng tốt, hợp da mình