Hada Labo Advanced NourishLotion 170ml Normal Skin
Product Details

About This Shop

Promotion

PAYMENT & DELIVERY
Description
Hada Labo Advanced Nourish 170ml Normal skin
Hada Labo Advanced Nourish 170ml Normal skin is an effective solution to care for, replenish and maintain skin's natural moisture to keep skin soft, fresh and radiant every day. HA system consists of HA, SHA and Nano HA with extremely small molecular size, capable of hydrating melancholy for optimal moisture supply efficiency. The solution penetrates quickly, helping to nourish the skin deeply from the inside, leaving no greasy feeling.
&.,&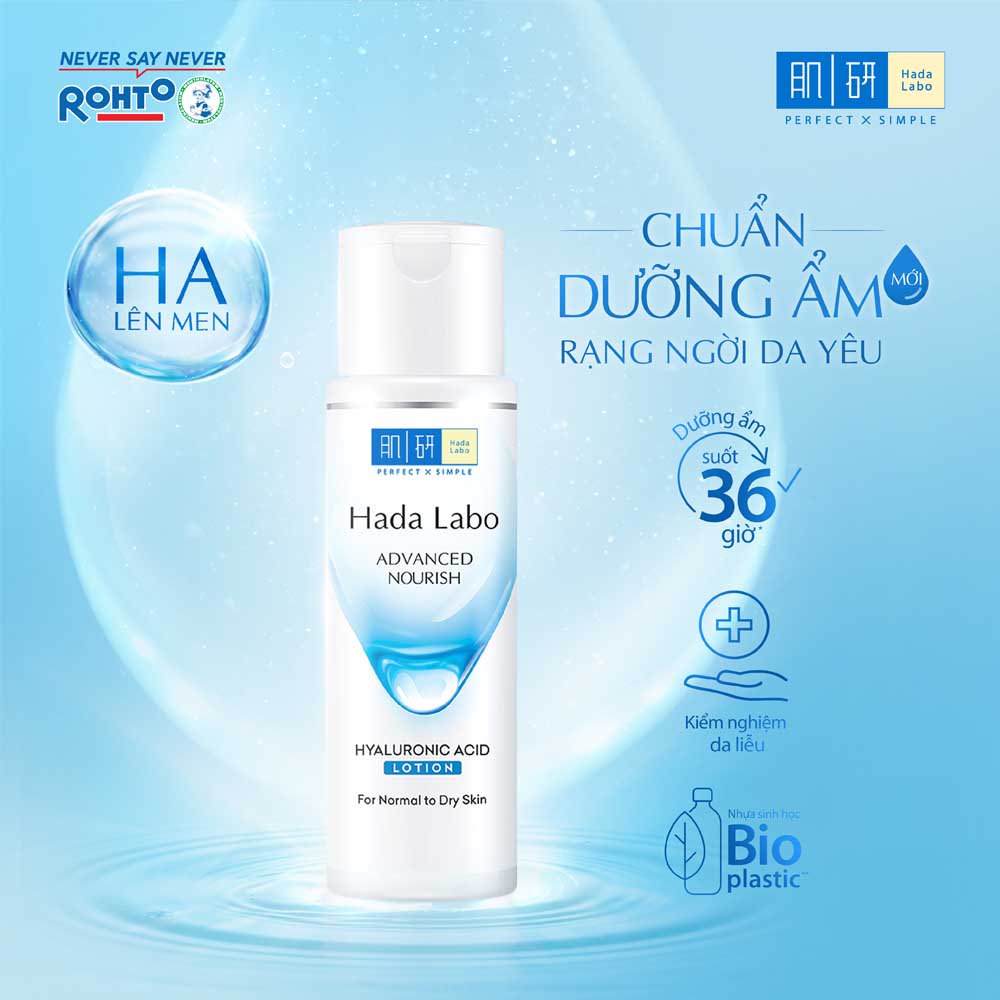 1. PAYMENT
For your convenient online shopping with Watsons, we offer the following payment methods:
1. Cash on Delivery
2. Payment in advance by the following methods:
- Local ATM card (Your card need
- Credit card / Debit card / VISA / MASTER / JCB / AMEX
- eWallet: Momo
2. ORDER CANCELATION
As your order will be processed immediately once you have confirmed payment. For more assistance on cancellation, please contact us via:
- Hotline: 1900 989877 (9:00 - 21:00)
- Email: contactus@watsons.vn
- Website: https://www.watsons.vn/contactUs
3. DELIVERY TIME AND SHPPING FEE
We always try to deliver your order as soon as possible with following delivery types:
1. Home Delivery
- Free shipping for order from 249.000 VND
- Order under 249.000 VND will have shipping fee:
▪ Within Ho Chi Minh City: 19.000 VND. Expected delivery time from 1-3 business days.
▪ Other cities / provinces in Vietnam: 49.000 VND. Expected delivery time 3-7 business days.
2. Click & Collect:
- Free shipping with expected delivery from 3-5 business days.
4. RETURN & REFUND
We always try to make sure that items delivered to you are of a good condition and correct. However, the following types of items can be put up for return and refund request:
- Wrong type of product, wrong dimension or color, missing items vs initial order
- Expired items
- Defective item during delivery
The customer may return the order within 14 days from the date receiving the order following attached Return form in the order:
- Return order needs to have all items in initial order, including gifts, coupons, and vouchers attached (if any).
- All items item must remains unopened, unused, no defective and dirt on packaging.
- After the order is returned successfully and checked following above condition, the refund is sent to customer within 30 business days.
Please contact Customer Service at 1900 989877 (9:00-21:00) or Email: contactus@watsons.vn for further information.
REVIEW
T**
2021/05/31
Sau bước làm sạch da thì việc dưỡng ẩm vô cùng quan trọng. Dòng lotion này có 5 loại lận. Còn đây là Hada Labo Dưỡng Ẩm tối ưu cho da thường đến hơi dầu. Nhìn vào bảng thành phần: Axit Hyaluronic thủy phân, Sodium Acetylated Hyaluronate, Sodium Hyaluronate đây là lý do mình chọn em này, độ pH ở mức 5.0 phù hợp vs da 🌿Nó giữ cho da ngậm nước bằng cách làm chậm tốc độ nước bay hơi từ bề mặt da. Nên khi mình sd thì thấy da được cấp ẩm liền tức thì luôn. Điều này tạo cảm giác rất thích, da ẩm ẩm kèm theo là cái độ mát lạnh trên mặt. Sau khi sử dụng làn da căng mịn một cách nhanh chóng. Đặc biệt sản phẩm không màu, không mùi, không gây nhờn rít, thấm rất nhanh, nên đây là loại mỹ phẩm dưỡng da cần thiết sau khi thoa toner. Ngoài ra tính dịu nhẹ sẽ thúc đẩy quá trình phục hồi da đó. 🌿Mình rất thích lotion này nha. Mình đánh giá 9/10, mn nên xài thử nhé💕
T**
2020/09/07
Với tui thì xài thích lắm mng ơi đang sale 1 tặng 1 nữa nên hãy mua đi mng