Diana Sensi Night 29cm Sanitary Napkin 4Pcs
Product Details

About This Shop

Promotion

PAYMENT & DELIVERY
Description
Diana Sensi Night 29cm 4Pcs
Diana Sensi Night 29cm 4Pcs use Unicharm's exclusive dual microfibre technology, both with a microfiber surface that absorbs solids (specific for Diana Sensi product lines) for maximum dryness and medium comfort. microfiber core is 0.1cm thin, super light, does not shrink and is waterproof.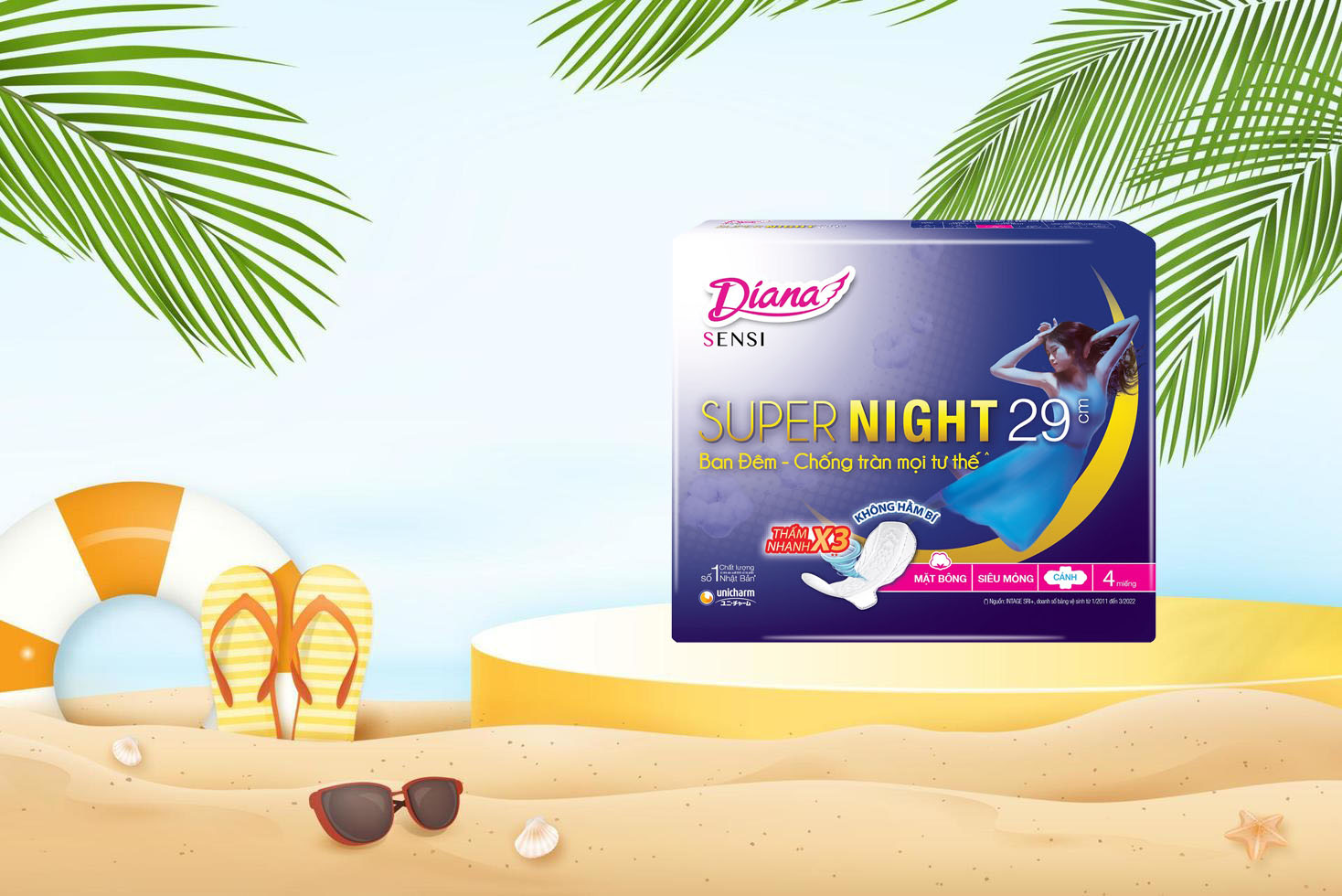 Main ingredients and uses:
- Diana Sensi Night 29cm 4Pcs are tampons used at night to help women stay confident in red light days.
- MULTI-CHANNEL WATERPROOF system evenly spreads and locks the liquid to help absorb 3 times faster, immediately returning the surface to dry, superior spill-proof for the whole night.
- Active Standing Gather anti-spill wall system, actively lifts up to hug the body, preventing overflow to the sides.
- Outstanding back overflow protection with an impressive 16cm extension wing and smart groove system to fix the tape.
- Soft cotton surface, wavy, super breathable. No more feelings of discomfort, gloom.
- Tape with a length of 29 cm, the anti-spill wall hugs the body, is soft with the skin, and the wings are firmly glued. The product gives girls a feeling of absolute security and confidence to exercise all day in "that day".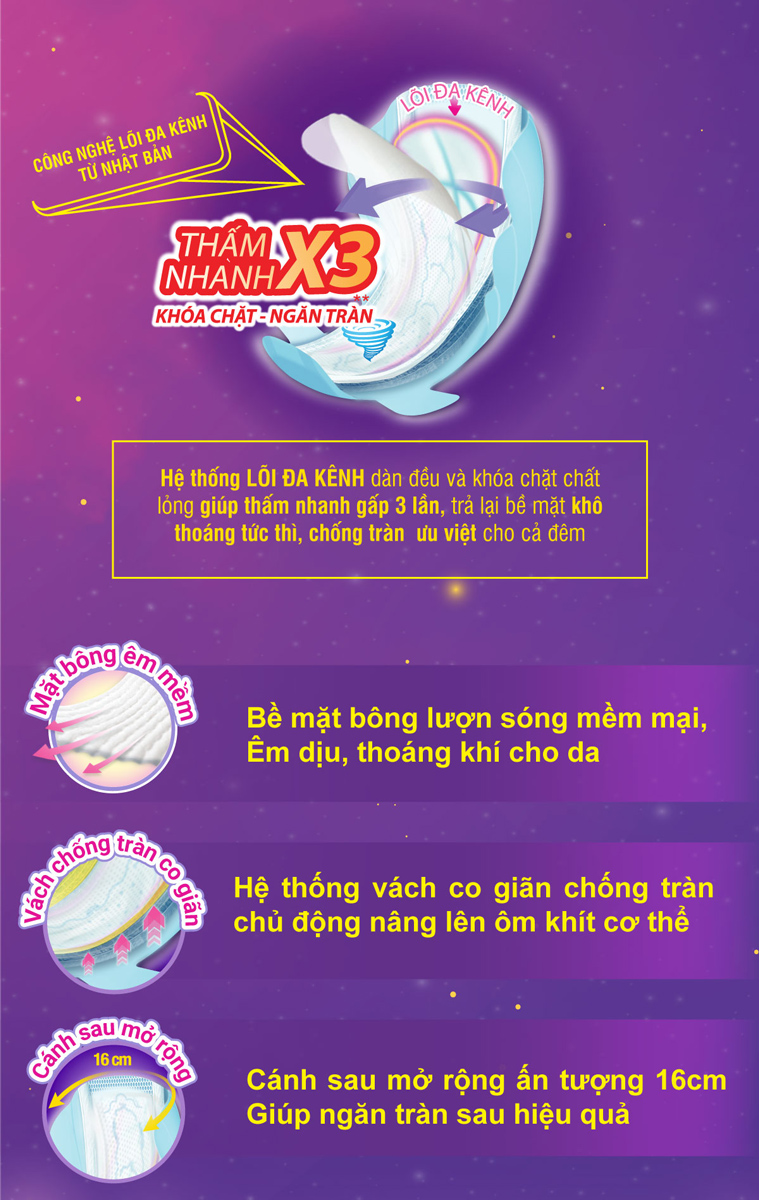 Used for:
Diana Sensi Night 29cm 4Pcs used for nighttime.

Usage:
- Remove the outer layer of adhesive.
- Stick to the bottom of the pants.
- Roll or re-pack the pack after use.
- The pad does not self-destruct should not put into the toilet after use.

Brand origin:
Japan
Place of Origin
Viet Nam
Width
2.8
Height
18
Depth
8.5
1. PAYMENT
For your convenient online shopping with Watsons, we offer the following payment methods:
1. Cash on Delivery
2. Payment in advance by the following methods:
- Local ATM card (Your card need
- Credit card / Debit card / VISA / MASTER / JCB / AMEX
- eWallet: Momo
2. ORDER CANCELATION
As your order will be processed immediately once you have confirmed payment. For more assistance on cancellation, please contact us via:
- Hotline: 1900 989877 (9:00 - 21:00)
- Email: contactus@watsons.vn
- Website: https://www.watsons.vn/contactUs
3. DELIVERY TIME AND SHPPING FEE
We always try to deliver your order as soon as possible with following delivery types:
1. Home Delivery
- Free shipping for order from 249.000 VND
- Order under 249.000 VND will have shipping fee:
▪ Within Ho Chi Minh City: 19.000 VND. Expected delivery time from 1-3 business days.
▪ Other cities / provinces in Vietnam: 49.000 VND. Expected delivery time 3-7 business days.
2. Click & Collect:
- Free shipping with expected delivery from 3-5 business days.
4. RETURN & REFUND
We always try to make sure that items delivered to you are of a good condition and correct. However, the following types of items can be put up for return and refund request:
- Wrong type of product, wrong dimension or color, missing items vs initial order
- Expired items
- Defective item during delivery
The customer may return the order within 14 days from the date receiving the order following attached Return form in the order:
- Return order needs to have all items in initial order, including gifts, coupons, and vouchers attached (if any).
- All items item must remains unopened, unused, no defective and dirt on packaging.
- After the order is returned successfully and checked following above condition, the refund is sent to customer within 30 business days.
Please contact Customer Service at 1900 989877 (9:00-21:00) or Email: contactus@watsons.vn for further information.