DHC Collagen Beauty 7000 Plus 50ml x 10 Bottles
Product Details

About This Shop

Promotion

PAYMENT & DELIVERY
Description
DHC Collagen Beauty 7000 Plus 50ml x 10 Bottles
Collagen Beauty 7000 Plus is a collagen drink that increases your beauty power with daily intake. It helps bring a more youthful look. For effective absorption, 7,000 mg of fish-derived collagen type-1 is decomposed into tiny low-molecular collagen peptides. Also, this drink includes all these beauty ingredients in 1 bottle: vitamin C to help collagen composition, pre-hyaluronic acid to keep your skin moisturized, and citrulline, which supports good circulation.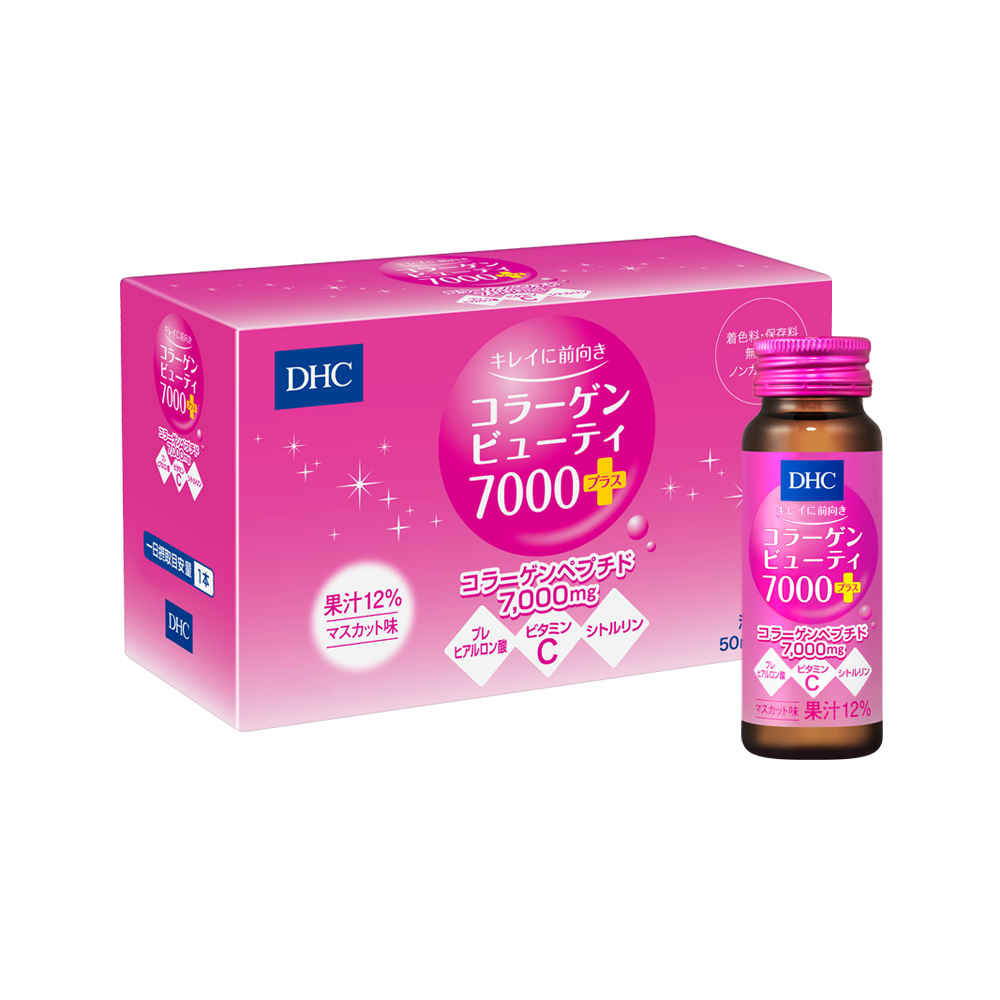 Main ingredients and uses:
- 7000mg of type 1 collagen extracted from fish skin and scales, processed to have a peptide structure with a micro-molecular size for easy absorption by the body. This content helps to nourish the skin smooth, improve elasticity effectively, giving you smooth, youthful skin.
- The collagen ingredient in the product has a peptide structure with a microscopic molecular size, extracted from the skin and scales of fish, so it will be easier for the body to absorb than collagen derived from pigs.
- 500mg of vitamin C not only stimulates the natural collagen proliferation process but also supports extremely effective anti-oxidants.
- 400mg of citrulline works to increase the absorption of water collagen, and at the same time will work with vitamin C to promote natural collagen production in the body.
- 200mg of HA precursor with micro-molecular size that moisturizes, hydrates the skin, and creates an ideal environment for collagen production in the body to take place.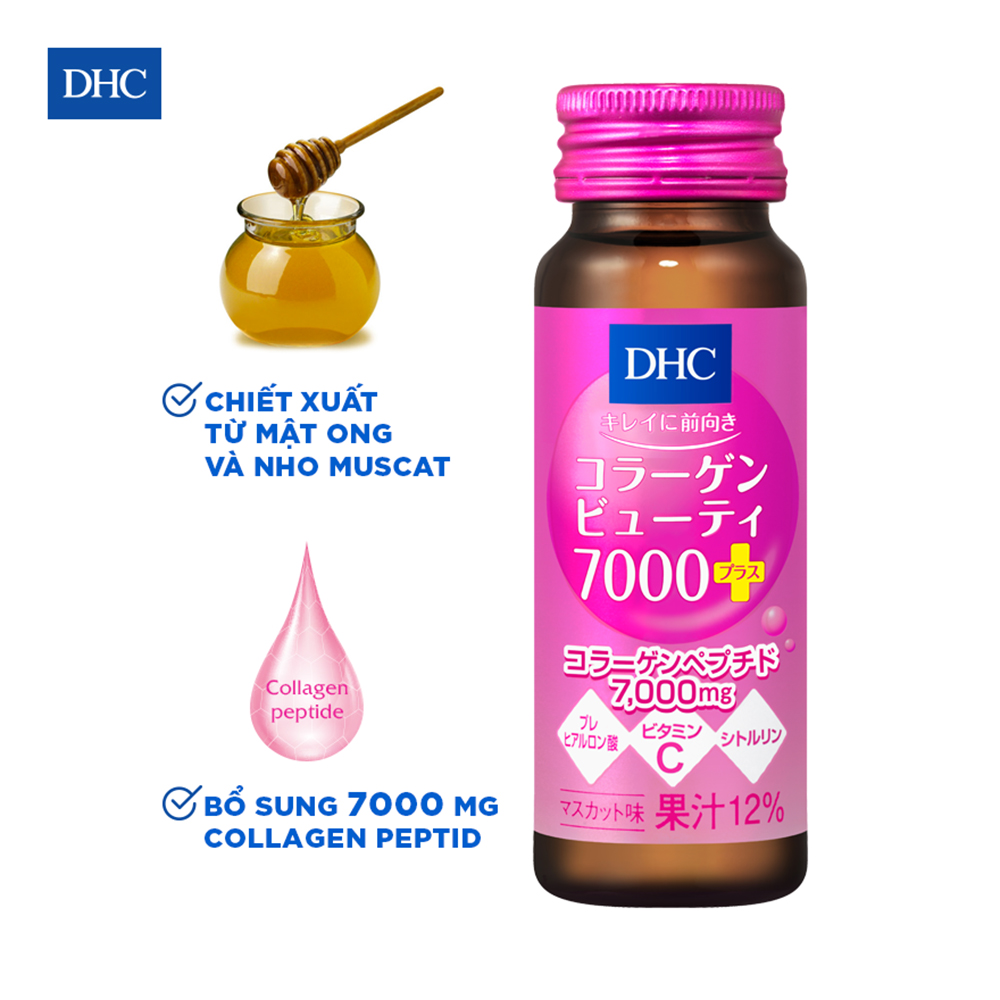 Used for:
Collagen Beauty 7000 Plus used for adult.

Usage:
Follow recommended daily intake (1 bottle).
Recommended to drink at bedtime.
Shake bottle before drinking and consume promptly after opening.
More tasty when refrigerated.

Place of orgin:
Japan
Place of Origin
Japan
Ingredients
Collagen peptide (contains gelatin) (made in Japan), grape juice (muscat), reduced starch syrup, erythritol, sugar, honey, citrulline, chitin decomposition (contains shrimp and crab), dextrin, palatinose, sodium chloride, acidulant, vitamin C, trehal
Storage Information
Store in a cool place. Avoid direct sunlight, high temperatures.
Width
7.3
Height
10.5
Depth
17.7
1. PAYMENT
For your convenient online shopping with Watsons, we offer the following payment methods:
1. Cash on Delivery
2. Payment in advance by the following methods:
- Local ATM card (Your card need
- Credit card / Debit card / VISA / MASTER / JCB / AMEX
- eWallet: Momo
2. ORDER CANCELATION
As your order will be processed immediately once you have confirmed payment. For more assistance on cancellation, please contact us via:
- Hotline: 1900 989877 (9:00 - 21:00)
- Email: contactus@watsons.vn
- Website: https://www.watsons.vn/contactUs
3. DELIVERY TIME AND SHPPING FEE
We always try to deliver your order as soon as possible with following delivery types:
1. Home Delivery
- Free shipping for order from 249.000 VND
- Order under 249.000 VND will have shipping fee:
▪ Within Ho Chi Minh City: 19.000 VND. Expected delivery time from 1-3 business days.
▪ Other cities / provinces in Vietnam: 49.000 VND. Expected delivery time 3-7 business days.
2. Click & Collect:
- Free shipping with expected delivery from 3-5 business days.
4. RETURN & REFUND
We always try to make sure that items delivered to you are of a good condition and correct. However, the following types of items can be put up for return and refund request:
- Wrong type of product, wrong dimension or color, missing items vs initial order
- Expired items
- Defective item during delivery
The customer may return the order within 14 days from the date receiving the order following attached Return form in the order:
- Return order needs to have all items in initial order, including gifts, coupons, and vouchers attached (if any).
- All items item must remains unopened, unused, no defective and dirt on packaging.
- After the order is returned successfully and checked following above condition, the refund is sent to customer within 30 business days.
Please contact Customer Service at 1900 989877 (9:00-21:00) or Email: contactus@watsons.vn for further information.
REVIEW
N**
2022/12/11
Giá tuy cao nhưng vị ngon, da có vẻ đỡ nhăn hơn :))