Dermal Cucumber Collagen Essence Mask 23g
Product Details

About This Shop

Promotion

PAYMENT & DELIVERY
Description
Dermal Cucumber &.,&Collagen Essence Mask &.,&23g

Dermal Cucumber Collagen Essence Mask 23g &.,&is a new essence mask which specially formulates cosmetics to penetrate highly concentrated active ingredients into the skin while keeping air out of the skin completely thus, it makes your tired skin moistened, elastic, clear and relieves your skin from stress.
&.,&

&.,&
Main ingredients and uses:
- High hydrolyzed collagen, helping collagen microscopic particles to penetrate into the epidermis layer, rejuvenate the skin, fill wrinkles of the skin, regenerate elasticity, smooth stretch of old skin.
- Cucumber extract contains phytochemicals that help in the production of collagen, the fiber-like protein responsible for skin elasticity and remove cellulite.
- Contains vitamin E and collagen which keeps your tired skin lively and healthy.
- Good quality felt soaked with various minerals and ingredients is used for effective absorption.
- &.,&With its Seaweed extracts and various mineral ingredients, it makes your skin relax, clear and moistened.
&.,&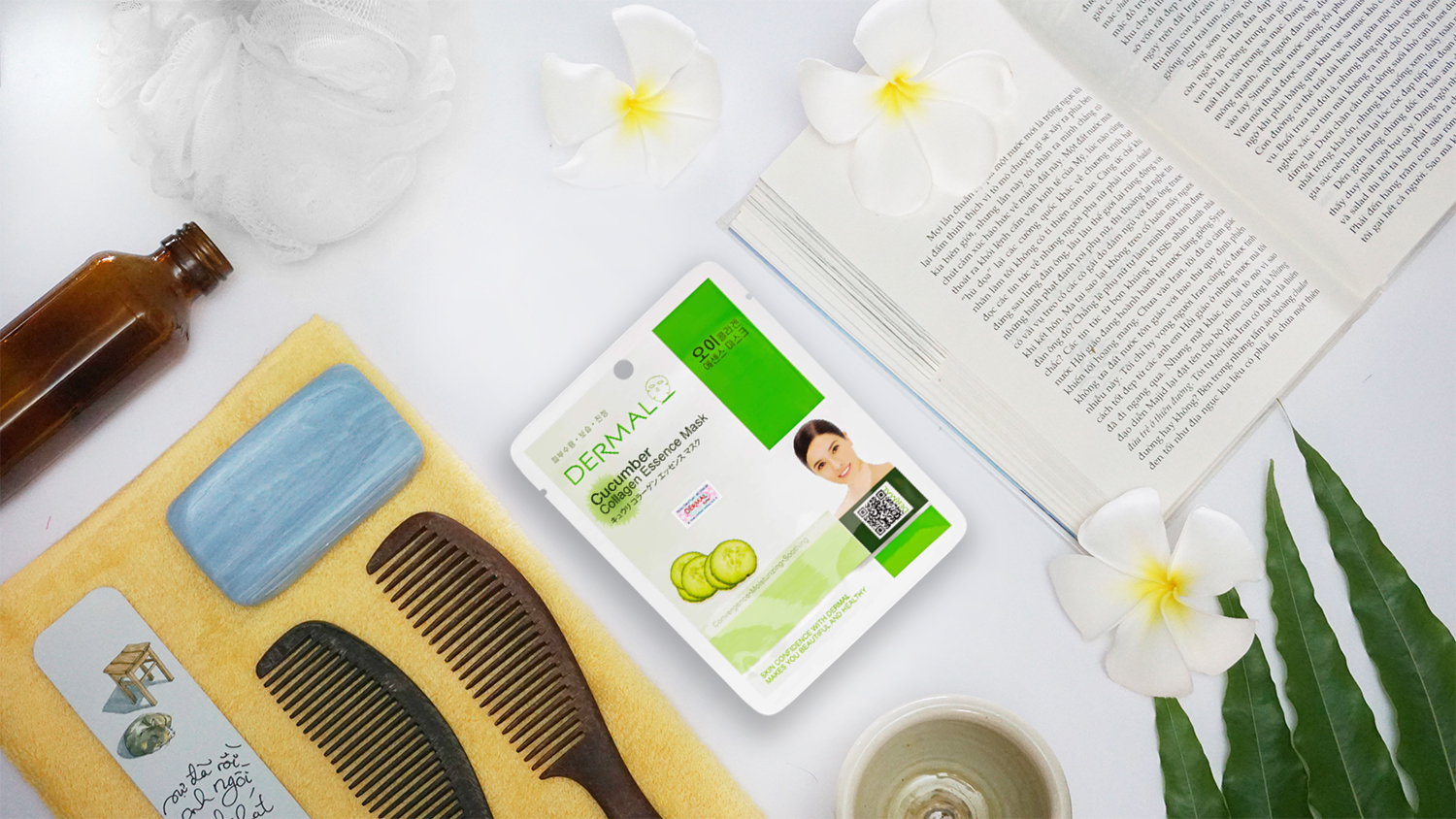 &.,&
Used for:
Dermal Cucumber Collagen Essence Mask 23g is used for all skin types.

Usage:
- &.,&Thoroughly clean and dry your face before applying the facial wrap.
- In order to spread the exact evenly pat the pouch 2-3 times prior to opening.
- Smooth facial wrap using fingertips to position over your face.
- Lie back and relax for 20 minutes after applying the facial wrap.
- Remove the facial wrap gently and massage remaining exact serum until completely absorbed.
- Cream or lotion can be followed if desired. Each facial wrap is for one time use only.
Width
6.2
Height
6.2
Depth
6.2
1. PAYMENT
For your convenient online shopping with Watsons, we offer the following payment methods:
1. Cash on Delivery
2. Payment in advance by the following methods:
- Local ATM card (Your card need
- Credit card / Debit card / VISA / MASTER / JCB / AMEX
- eWallet: Momo
2. ORDER CANCELATION
As your order will be processed immediately once you have confirmed payment. For more assistance on cancellation, please contact us via:
- Hotline: 1900 989877 (9:00 - 21:00)
- Email: contactus@watsons.vn
- Website: https://www.watsons.vn/contactUs
3. DELIVERY TIME AND SHPPING FEE
We always try to deliver your order as soon as possible with following delivery types:
1. Home Delivery
- Free shipping for order from 249.000 VND
- Order under 249.000 VND will have shipping fee:
▪ Within Ho Chi Minh City: 19.000 VND. Expected delivery time from 1-3 business days.
▪ Other cities / provinces in Vietnam: 49.000 VND. Expected delivery time 3-7 business days.
2. Click & Collect:
- Free shipping with expected delivery from 3-5 business days.
4. RETURN & REFUND
We always try to make sure that items delivered to you are of a good condition and correct. However, the following types of items can be put up for return and refund request:
- Wrong type of product, wrong dimension or color, missing items vs initial order
- Expired items
- Defective item during delivery
The customer may return the order within 14 days from the date receiving the order following attached Return form in the order:
- Return order needs to have all items in initial order, including gifts, coupons, and vouchers attached (if any).
- All items item must remains unopened, unused, no defective and dirt on packaging.
- After the order is returned successfully and checked following above condition, the refund is sent to customer within 30 business days.
Please contact Customer Service at 1900 989877 (9:00-21:00) or Email: contactus@watsons.vn for further information.