Dermaction Plus By Watsons Anti-Ageing Time Reverse Revitalising Facial Foam 100ml
Product Details

About This Shop

Promotion

PAYMENT & DELIVERY
Description
Dermaction Plus By Watsons Anti-Ageing Time Reverse Revitalising Facial Foam 100ml

Dermaction Plus By Watsons Anti-Ageing Time Reverse Revitalising Facial Foam 100ml gently removes dirt and excess oil from the face. With the nourishing effect of AgeBloc helps reduce wrinkles for a fading look and helps protect skin from pollution. Incorporates Moist SR 3D technology to replenish and retain moisture, plus Sodium PCA, Hydraporine®&.,&, Sweet Almond Oil and Jojoba Oil, to help soften, moisturize and look fresh, free from dryness.
&.,&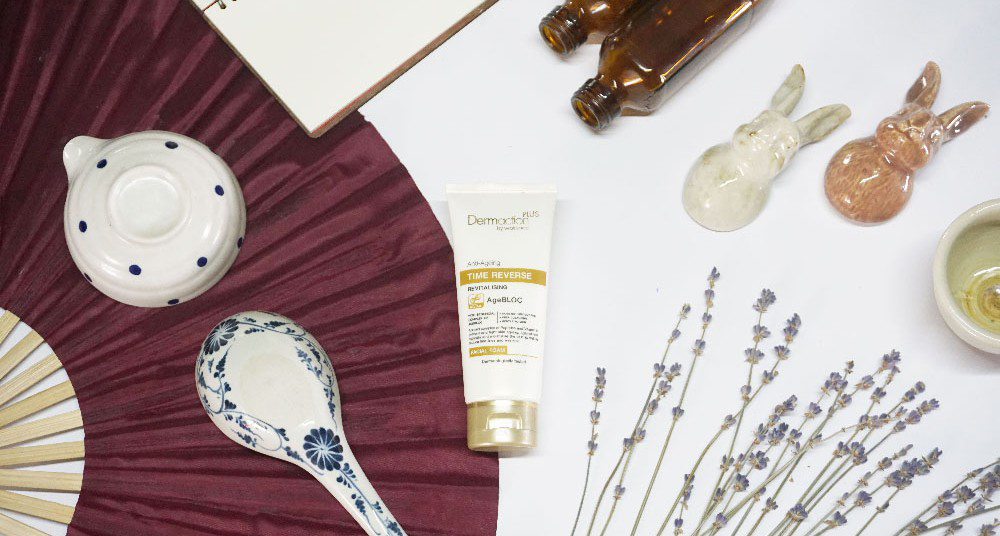 &.,&
Main ingredients and uses:
- AgeBloc: Provides antioxidant effect, replenishes the skin's energy levels and protects the skin from environmental damage.
- Moist SR 3 D Technology: Provides powerful anti-thirst hydration by adding and locking moisture into skin to prevent dryness.
- BioPeptide: has anti-aging properties, helping to increase skin firmness and smooth the skin. B-tox: Helps reduce fine lines and fine lines to reveal smooth, supple skin
- Vitamin C: helps fight melasma.
- Co-enzyme Q10: Helps fight the signs of aging.
&.,&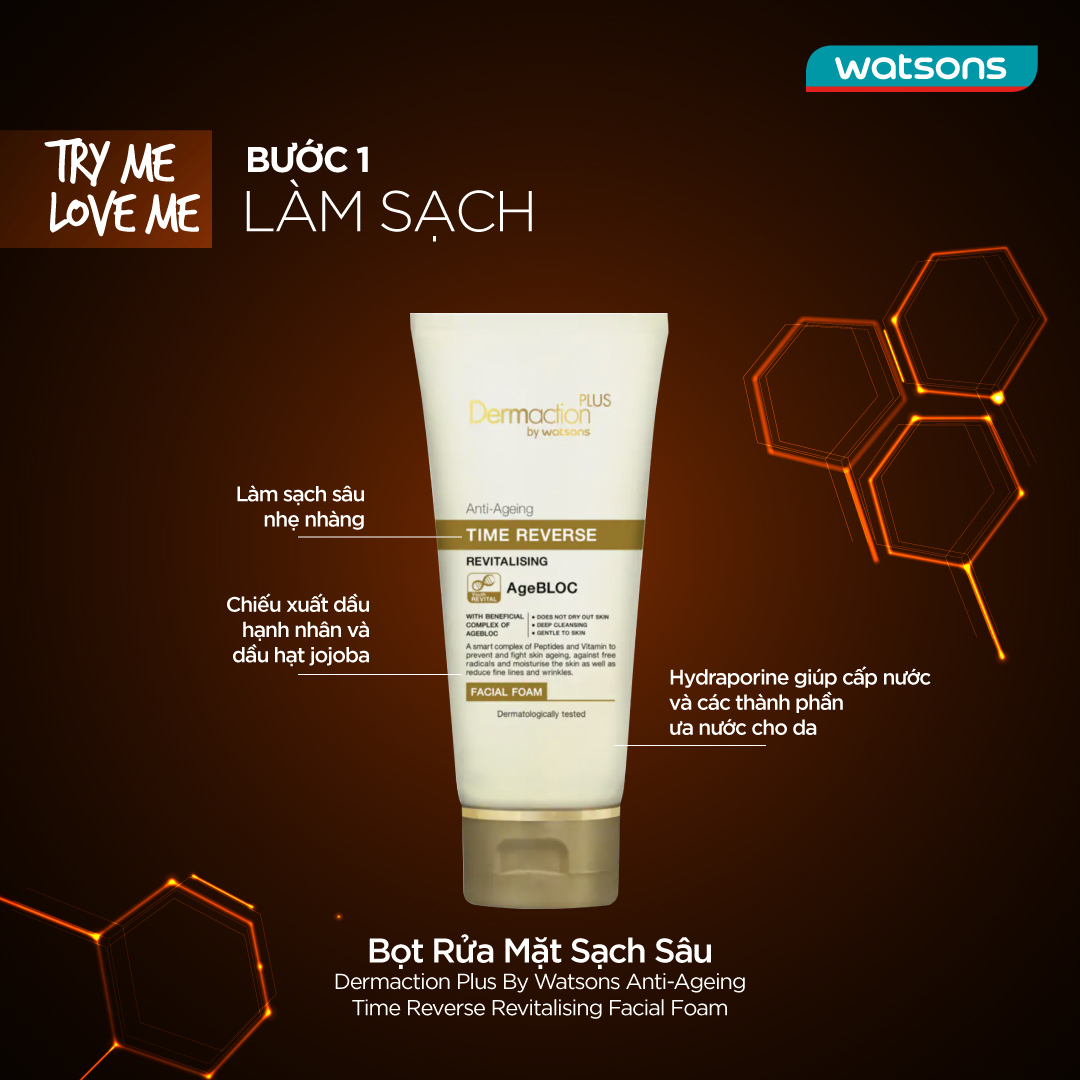 &.,&
Used for:
Dermaction Plus By Watsons Anti-Ageing Time Reverse Revitalising Facial Foam 100ml &.,&used for all skin types.

Usage:
Take a sufficient amount of cleansing foam into the palm of your hand and mix with the appropriate amount of water, gently massage on your face to create lather. Then rinse with clean water.
Place of Origin
Thailand
Product Usage
Reading in long description
Ingredients
Aqua, Myristic Acid, Palmitic Acid, Stearic Acid, Sorbitol, Potassium Hydroxide, Butylene Glycol, Glycol Distearate, Sodium Laureth Sulfate, Phenoxyethanol, Parfum, Ceteth-20, Tetrasodium EDTA, Simmondsia Chinensis (Jojoba) Seed Oil, Sodium PCA
Storage Information
Turn off after used and save the product in cool air.
Width
3.5
Height
14.5
Depth
6.2
1. PAYMENT
For your convenient online shopping with Watsons, we offer the following payment methods:
1. Cash on Delivery
2. Payment in advance by the following methods:
- Local ATM card (Your card need
- Credit card / Debit card / VISA / MASTER / JCB / AMEX
- eWallet: Momo
2. ORDER CANCELATION
As your order will be processed immediately once you have confirmed payment. For more assistance on cancellation, please contact us via:
- Hotline: 1900 989877 (9:00 - 21:00)
- Email: contactus@watsons.vn
- Website: https://www.watsons.vn/contactUs
3. DELIVERY TIME AND SHPPING FEE
We always try to deliver your order as soon as possible with following delivery types:
1. Home Delivery
- Free shipping for order from 249.000 VND
- Order under 249.000 VND will have shipping fee:
▪ Within Ho Chi Minh City: 19.000 VND. Expected delivery time from 1-3 business days.
▪ Other cities / provinces in Vietnam: 49.000 VND. Expected delivery time 3-7 business days.
2. Click & Collect:
- Free shipping with expected delivery from 3-5 business days.
4. RETURN & REFUND
We always try to make sure that items delivered to you are of a good condition and correct. However, the following types of items can be put up for return and refund request:
- Wrong type of product, wrong dimension or color, missing items vs initial order
- Expired items
- Defective item during delivery
The customer may return the order within 14 days from the date receiving the order following attached Return form in the order:
- Return order needs to have all items in initial order, including gifts, coupons, and vouchers attached (if any).
- All items item must remains unopened, unused, no defective and dirt on packaging.
- After the order is returned successfully and checked following above condition, the refund is sent to customer within 30 business days.
Please contact Customer Service at 1900 989877 (9:00-21:00) or Email: contactus@watsons.vn for further information.
REVIEW
K**
2023/02/23
Sữa rửa mặt giúp làm sạch sâu, ngăn ngừa mụn. Làm sạch nhưng cảm giác da vẫn còn ẩm mướt sau khi rửa chứ k bị khô kin kít ạ
Đ**
2023/02/06
Dùng dòng sữa rửa mặt này xong da đẹp lắm nha. Vừa làm sạch da, vừa có thành phần giúp ngăn ngừa lão hóa. Sau khi rửa mặt da mềm, ẩm, căng mịn, đã lắm. Giao hàng nhanh, đóng gói cẩn thận, 10 điểm!