Clear Men Deep Cleanse Shampoo 630g
Product Details

About This Shop

Promotion

PAYMENT & DELIVERY
Description
Clear Men Deep Cleanse Shampoo 630g

Clear Men Deep Cleanse Shampoo 630g is a shampoo specifically for men's scalp. With 3X the power of technology combined with Taurine, Clear Men Deep Cleanse Deep Cleanse adds activated charcoal to help eliminate dandruff, itching, sweat and bacteria. From there, penetrate deeper into the hair follicle, nourish from deep inside, helping to improve the condition of dandruff at the first time.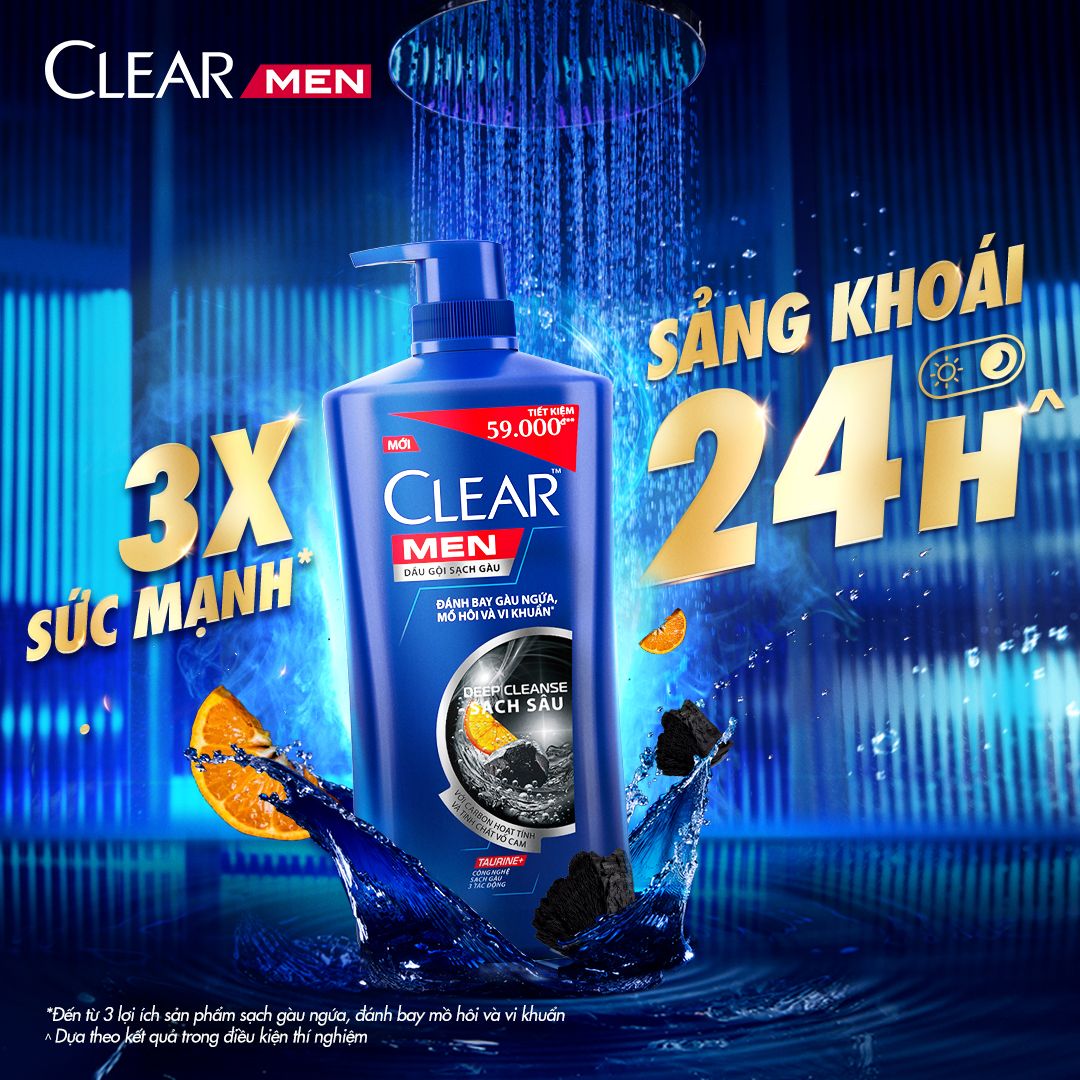 Main ingredients and uses:
- Clear Men Deep Cleanse Shampoo 630g helps fight dandruff, itching on the male scalp, keeping the scalp refreshed.
- Anti-dandruff 3-action technology with Vitamin B3 and Taurine, helps to remove sebum, attack dandruff, prevent dandruff from recurring, end dandruff worries.
- Activated charcoal deep cleans pores, removes sebum, cleans the scalp and hair.
- Mint crystals create a refreshing cooling sensation that lasts on the hair and scalp.
- Outstanding active ingredient Nutrium 10 helps nourish the scalp from deep within.
- The scent is masculine, cool, suitable for people who sweat a lot.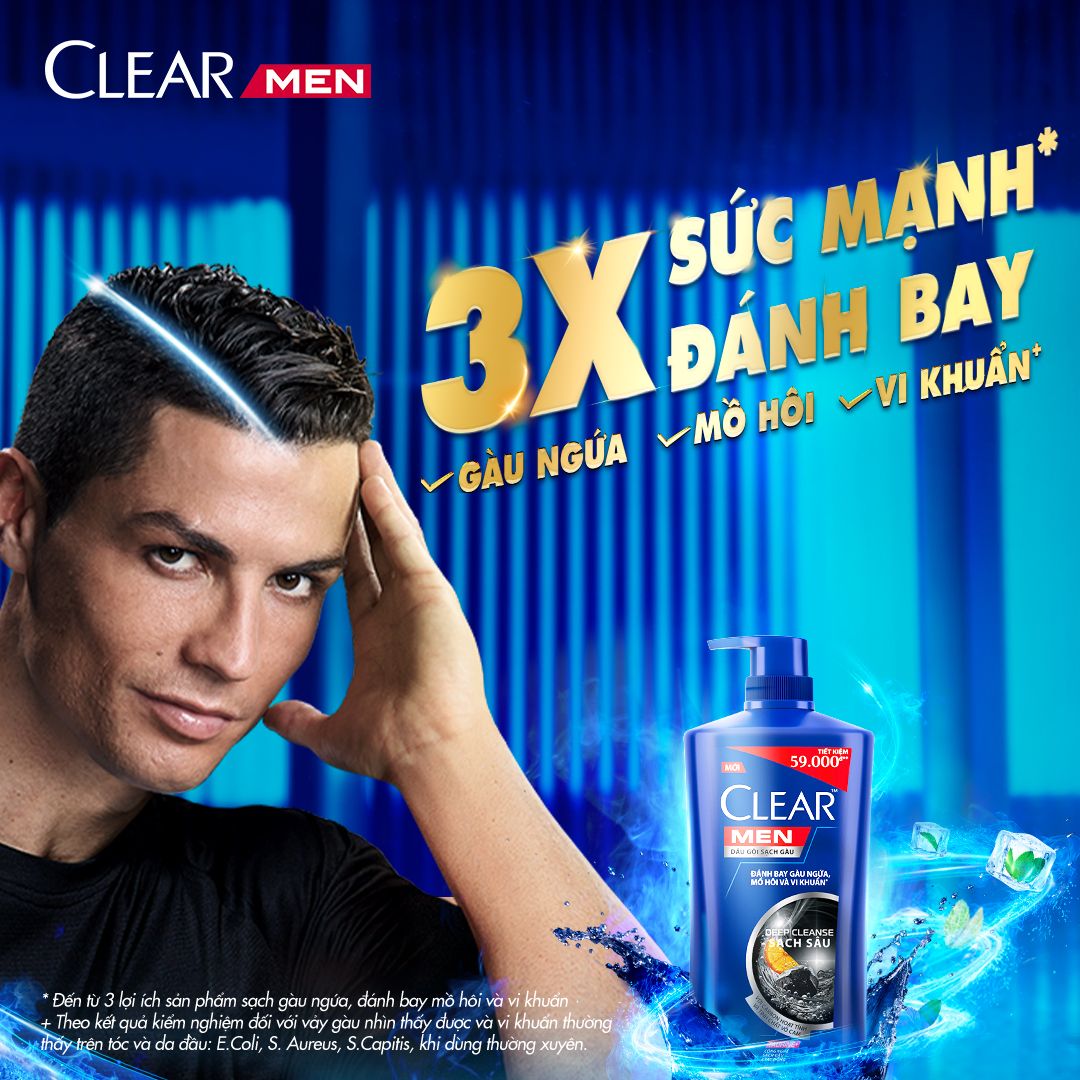 Used for:
Clear Men Deep Cleanse Shampoo 630g used for all hair types.

Usage:
- Put an appropriate amount in the palm of your hand.
- Apply shampoo evenly to wet hair & scalp and massage gently.
- Wash off with water. Recommended daily use.

Brand origin:
Vietnam
Place of Origin
Viet Nam
Ingredients
Water, Sodium Laureth Sulfate, Cocamidopropyl Betaine, Sodium Chloride, Zinc Pyrithione, Dimethiconol, Perfume, Phenoxyethanol, Dimethicone, Carbomer, Sodium Salicylate, Menthol, Guar Hydroxypropyltrimonium Chloride, Citric Acid, Zinc Sulfate, Tea-Do
Storage Information
Room Temperature, Avoid Sunlight
Width
6.5
Height
23
Depth
8.6
1. PAYMENT
For your convenient online shopping with Watsons, we offer the following payment methods:
1. Cash on Delivery
2. Payment in advance by the following methods:
- Local ATM card (Your card need
- Credit card / Debit card / VISA / MASTER / JCB / AMEX
- eWallet: Momo
2. ORDER CANCELATION
As your order will be processed immediately once you have confirmed payment. For more assistance on cancellation, please contact us via:
- Hotline: 1900 989877 (9:00 - 21:00)
- Email: contactus@watsons.vn
- Website: https://www.watsons.vn/contactUs
3. DELIVERY TIME AND SHPPING FEE
We always try to deliver your order as soon as possible with following delivery types:
1. Home Delivery
- Free shipping for order from 249.000 VND
- Order under 249.000 VND will have shipping fee:
▪ Within Ho Chi Minh City: 19.000 VND. Expected delivery time from 1-3 business days.
▪ Other cities / provinces in Vietnam: 49.000 VND. Expected delivery time 3-7 business days.
2. Click & Collect:
- Free shipping with expected delivery from 3-5 business days.
4. RETURN & REFUND
We always try to make sure that items delivered to you are of a good condition and correct. However, the following types of items can be put up for return and refund request:
- Wrong type of product, wrong dimension or color, missing items vs initial order
- Expired items
- Defective item during delivery
The customer may return the order within 14 days from the date receiving the order following attached Return form in the order:
- Return order needs to have all items in initial order, including gifts, coupons, and vouchers attached (if any).
- All items item must remains unopened, unused, no defective and dirt on packaging.
- After the order is returned successfully and checked following above condition, the refund is sent to customer within 30 business days.
Please contact Customer Service at 1900 989877 (9:00-21:00) or Email: contactus@watsons.vn for further information.