Cell Fusion C Derma Relief Sunscreen 100 SPF50+/PA+++ 50ml
Product Details

About This Shop

Promotion

PAYMENT & DELIVERY
Description
Cell Fusion C Derma Relief Sunscreen 100 SPF50+/PA++++ 50ml

Cell Fusion C Derma Relief Sunscreen 100 SPF50+/PA++++ 50ml is a mild moisturizing inorganic UV protection suncream for soft skin. Mild inorganic UV protection with 100% zinc oxide that reduces the burden on skin and blocks UVA/UVB in a gentle and safe manner. A silky and soft &ldquo&.,&Embo Blur Powder&rdquo&.,& application technology that gives a tight skin texture exclusive to Cell Fusion C.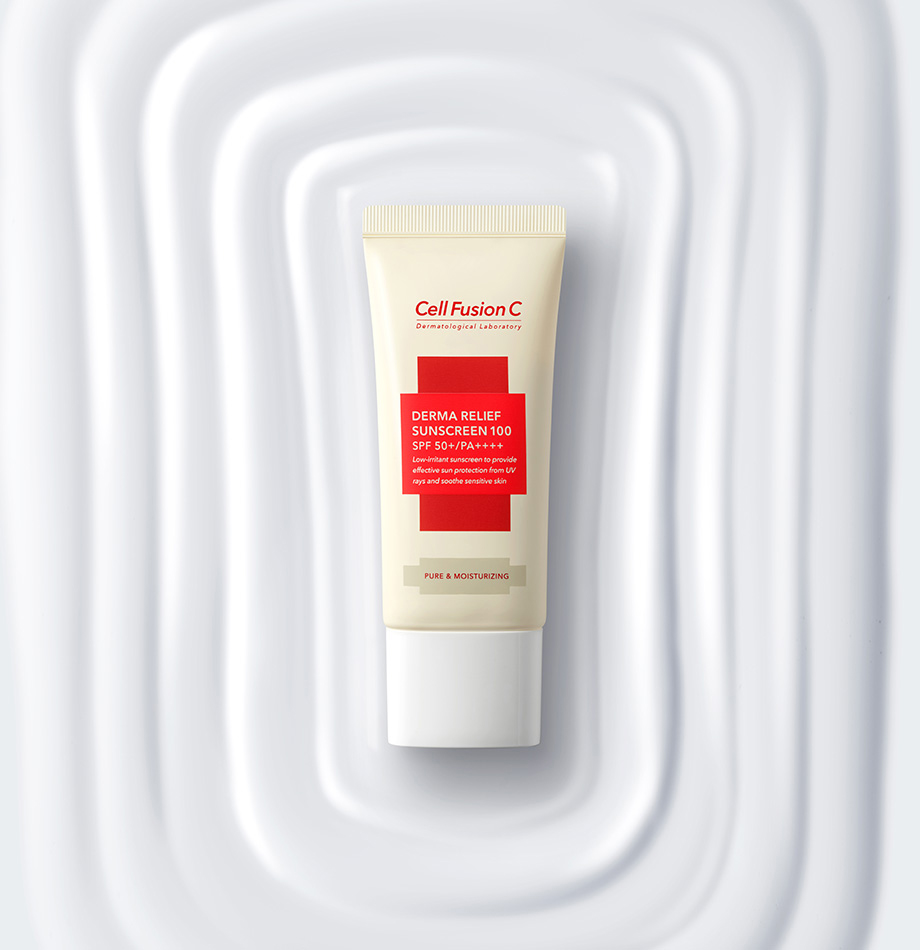 Main ingredients and uses:
- Cell Fusion C Derma Relief Sunscreen 100 SPF50+/PA++++ 50ml is a low-irritant, mild, lightweight sunscreen that helps soothe sensitive skin and protects against UV rays.
- This sunscreen are said to neutralize daily damage caused by pollutants and blue light from screen time.
- Niacinamide: Minimizes and tightens lax pores, diminishes dullness, evens out discoloration.
- Glutathione: Helps brighten skin tone and prevents wrinkles.
- Ceramide NP: Prevents skin dehydration and improves the skin barrier function, which helps keep harmful environmental irritants out.
- Zinc oxide: An inorganic UV protection ingredient that mildly and safely reflects UV rays on the skin.
- Calendula flower extract: A natural moisturizing ingredient that contains a large amount of flavonoids to balance and care for dry skin.
- Butylene Glycol: A conditioning agent that adds a layer of softness to the skin to improve its texture.
- DPG (Dipotassium Glycyrrhizate) helps protect sensitive skin from UV rays by plant ingredients extracted from natural licorice roots.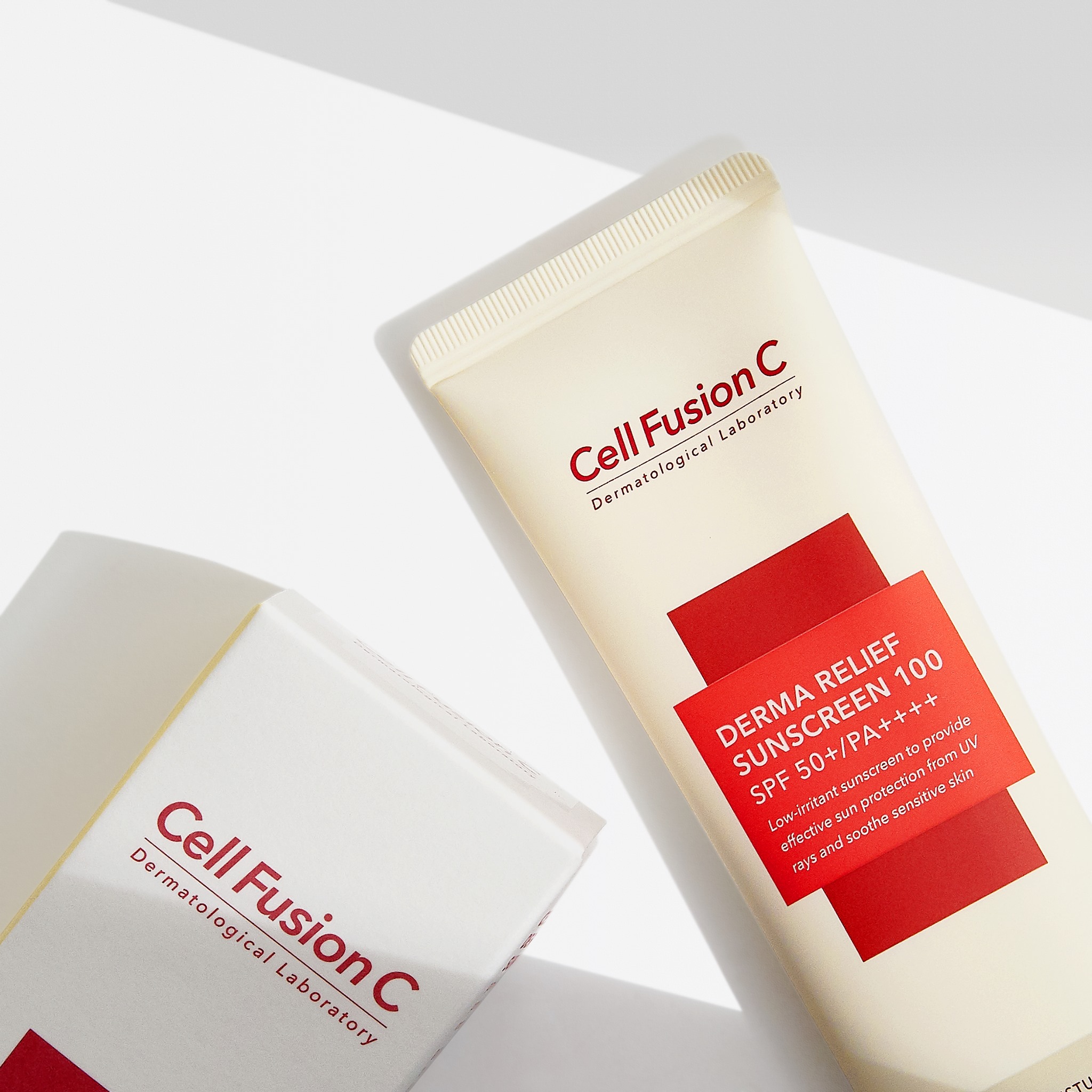 Used for:
Cell Fusion C Derma Relief Sunscreen 100 SPF50+/PA++++ 50ml used for all skin types.

Usage:
- Apply a moderate amount at the last step of your skin care or 30 minutes before going out.
- Recommended to apply to areas such as the forehead/nose blade that require UV protection.
- Apply it again during outdoor activities to block UV rays more effectively.

Brand origin:
Korea
Place of Origin
Korea
Ingredients
Water, Zinc Oxide, Propylheptylcaprylate, C12-15 Alkylbenzoate, Butylene Glycol, Disiloxane, Laurylpolyglyceryl-3 Polydimethylsiloxyethyl Dimethicone, Isododecane, Isotridecyl Isononanoate, Polyglyceryl-3 Polydimethylsiloxyethyldimethicone,…
Storage Information
Dry, cool place. Avoid direct sunlight
Width
3
Height
16
Depth
4.5
1. PAYMENT
For your convenient online shopping with Watsons, we offer the following payment methods:
1. Cash on Delivery
2. Payment in advance by the following methods:
- Local ATM card (Your card need
- Credit card / Debit card / VISA / MASTER / JCB / AMEX
- eWallet: Momo
2. ORDER CANCELATION
As your order will be processed immediately once you have confirmed payment. For more assistance on cancellation, please contact us via:
- Hotline: 1900 989877 (9:00 - 21:00)
- Email: contactus@watsons.vn
- Website: https://www.watsons.vn/contactUs
3. DELIVERY TIME AND SHPPING FEE
We always try to deliver your order as soon as possible with following delivery types:
1. Home Delivery
- Free shipping for order from 249.000 VND
- Order under 249.000 VND will have shipping fee:
▪ Within Ho Chi Minh City: 19.000 VND. Expected delivery time from 1-3 business days.
▪ Other cities / provinces in Vietnam: 49.000 VND. Expected delivery time 3-7 business days.
2. Click & Collect:
- Free shipping with expected delivery from 3-5 business days.
4. RETURN & REFUND
We always try to make sure that items delivered to you are of a good condition and correct. However, the following types of items can be put up for return and refund request:
- Wrong type of product, wrong dimension or color, missing items vs initial order
- Expired items
- Defective item during delivery
The customer may return the order within 14 days from the date receiving the order following attached Return form in the order:
- Return order needs to have all items in initial order, including gifts, coupons, and vouchers attached (if any).
- All items item must remains unopened, unused, no defective and dirt on packaging.
- After the order is returned successfully and checked following above condition, the refund is sent to customer within 30 business days.
Please contact Customer Service at 1900 989877 (9:00-21:00) or Email: contactus@watsons.vn for further information.