Bigen Grey Coverage Speedy Color Cream 80g .# 04 Caramen l Brown
Product Details

About This Shop

Promotion

PAYMENT & DELIVERY
Description
Bigen Grey Coverage Speedy Color Cream 80g .#4 Caramen l Brown
Bigen Speedy Color Cream, also known as Bigen Japan, is a 100% imported and manufactured dye line from Japan, providing a safe hair dye solution with ingredients extracted from natural herbs. Bigen Japan is perfectly covered with silver, specially formulated for gray hair, which helps to wear silver from root to tip. Combined with 06 natural herbs: hops, dill, peppermint, yarrow, chrysanthemum, mistletoe nourish hair right after and after dyeing, preventing dryness, broken hair always smooth silky & strong.
Main Ingredients and Uses:
- Bigen Speedy Color Cream with Silver is specially formulated for gray hair, helping to cover the roots from the silver to the ends.
- High quality, perfect silver coating, effective fast, no unpleasant smell, absolutely no fragrance. Bigen Japan with Amino Acid Complex and 6 herbal extracts help protect and moisturize the scalp, helping hair after dyeing to be strong, without worrying about hair.
- Peppermint is used in many hair products thanks to its ability to prevent dandruff and effectively cleanse oily skin. Not only that, peppermint is rich in vitamins and potassium minerals, as well as contains lots of antioxidants. In particular, there are antioxidants capable of preventing and supporting the treatment of allergies.
- Products include colors:
# 3 - Light Brown is suitable for fashion lovers with trendy & trendy light brown hair
# 4 - Caramel brown suitable for women who want to have caramel, light brown hair
# 5 - Dark Brown is suitable for women who prefer dark hair but still have a youthful light brown
# 6 - Dark Brown is suitable for women who love dark tones.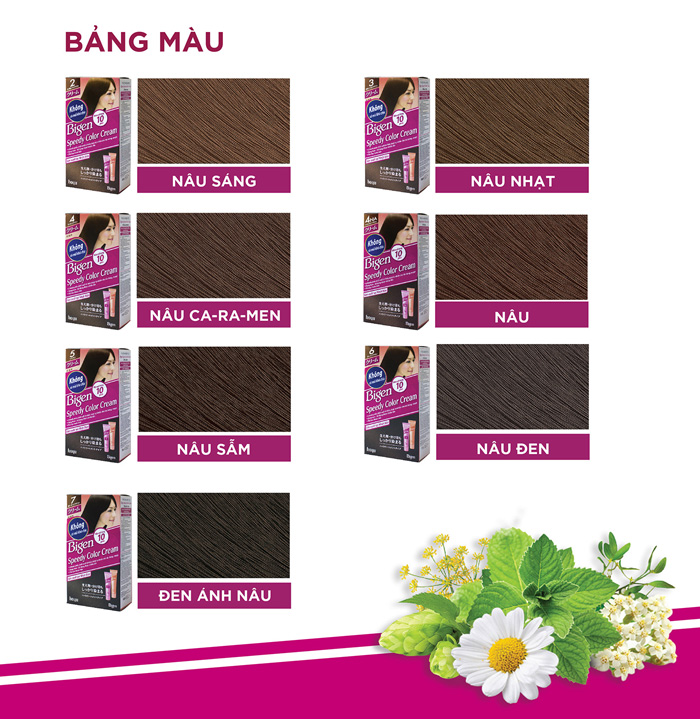 Storage Information
Dry, cool place. Avoid direct sunlight
Width
8.5
Height
8.5
Depth
8.5
1. PAYMENT
For your convenient online shopping with Watsons, we offer the following payment methods:
1. Cash on Delivery
2. Payment in advance by the following methods:
- Local ATM card (Your card need
- Credit card / Debit card / VISA / MASTER / JCB / AMEX
- eWallet: Momo
2. ORDER CANCELATION
As your order will be processed immediately once you have confirmed payment. For more assistance on cancellation, please contact us via:
- Hotline: 1900 989877 (9:00 - 21:00)
- Email: contactus@watsons.vn
- Website: https://www.watsons.vn/contactUs
3. DELIVERY TIME AND SHPPING FEE
We always try to deliver your order as soon as possible with following delivery types:
1. Home Delivery
- Free shipping for order from 249.000 VND
- Order under 249.000 VND will have shipping fee:
▪ Within Ho Chi Minh City: 19.000 VND. Expected delivery time from 1-3 business days.
▪ Other cities / provinces in Vietnam: 49.000 VND. Expected delivery time 3-7 business days.
2. Click & Collect:
- Free shipping with expected delivery from 3-5 business days.
4. RETURN & REFUND
We always try to make sure that items delivered to you are of a good condition and correct. However, the following types of items can be put up for return and refund request:
- Wrong type of product, wrong dimension or color, missing items vs initial order
- Expired items
- Defective item during delivery
The customer may return the order within 14 days from the date receiving the order following attached Return form in the order:
- Return order needs to have all items in initial order, including gifts, coupons, and vouchers attached (if any).
- All items item must remains unopened, unused, no defective and dirt on packaging.
- After the order is returned successfully and checked following above condition, the refund is sent to customer within 30 business days.
Please contact Customer Service at 1900 989877 (9:00-21:00) or Email: contactus@watsons.vn for further information.
REVIEW
N**
2022/11/26
Sản phẩm dùng rất hài lòng nha. Cho 5 sao
M**
2022/11/26
Phủ bạc rất là tốt. Dùng dễ lắm, chỉ khoảng 30p hơn là nhuộm xong rồi. 1 hộp này mình dùng quét ở chân bạc được tận 3 lần luôn. Giá rẻ. Màu nhuộm xong cũng đẹp và bền.