Avif Biocell Brightening Face Mask 23g
Product Details

About This Shop

Promotion

PAYMENT & DELIVERY
Description
Avif Biocell Brightening Face Mask 23g

Avif Biocell Brightening &.,&Face Mask helps whitening care with natural extracts from Alpine Highlands, organic Giga-White certified by France Eco Cert and brightening &.,&functional ingredients, provide bright skin tone by relieving UV trace.
&.,&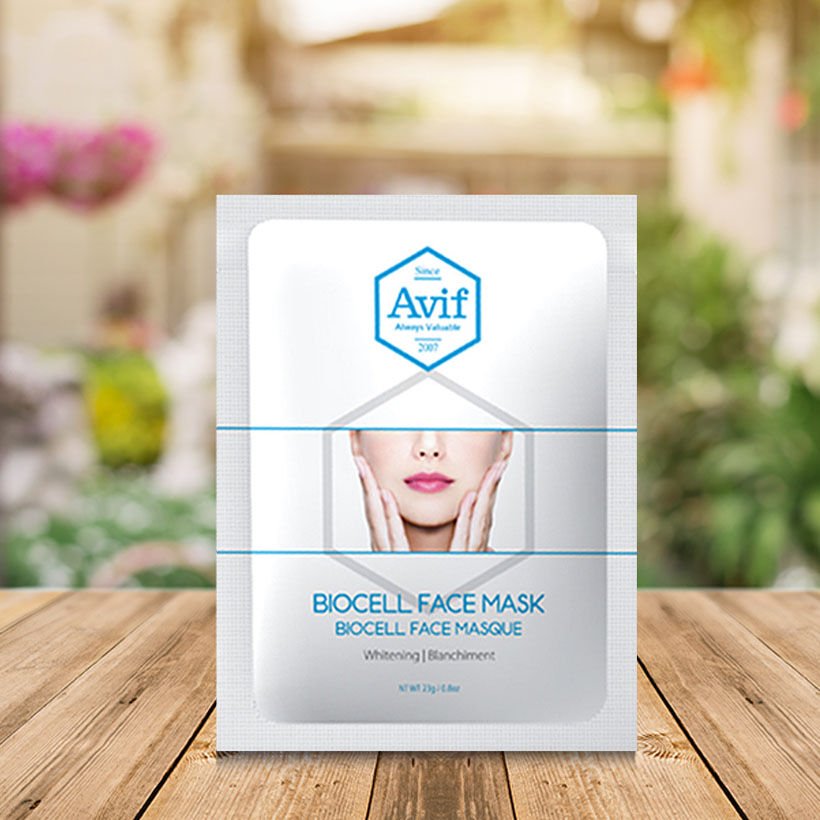 &.,&
Main ingredients and uses:
- &.,&The second skin, natural biocellulose sheet effect: Natural biocellulose, made by fermenting coconut juice is rich in vitamin and minerals, and has three-dimensional nanostructure which is the most similar structure to human skin cell membranes. Using a single mask sheet will provide you the effect of skin nourishment with a bottle of essence by immediately delivering highly concentrated serum deep into skin.
- Intensive Whitening Care: Carefully selected organic whitening ingredients and MFDS whitening ingredients prevent melanin pigmentation and improve skin tone, making dull skin more transparent and bright.
- 16 natural ingredients and hyaluronic acid gives soothing and moisturizing care at the same time: All Avif products contain carefully selected and highly concentrated herb complex from Alphine region, and hyaluronic acid, which moisturize and relieve dull and sensitive skin.
- Herbal Ingredients gives a comfortable and healthy skin.
- Hyaluronic Acid: Intensive moisturizer keeps skin moisturized.
- Giga-White / Whitening makes your skin look clear and bright.
- Biocellulose can hold 200 times as much essence than itself and has excellent essence penetration effect to skin.
- Biocellulose mask sheet has a structure very similar to that of skin, and is very soft and has excellent adhesion.
- Biocellulose mask sheet has a natural cooling effect which provides a refreshing feeling.
- Biocellulose mask sheet has high skin adhesion, allowing free movement during the pack.
&.,&
&.,&
Used for:
Avif Biocell Brightening &.,&Face Mask 23g used for all skin types.

Usage:
- Cleanse and dry your face thoroughly.
- Open the pocket and unfold the three layers of sheet (nonwoven-bio nano cell sheet-white plastic film).
- Detach the nonwoven before placing the bio nano cell sheet on face and remove the white plastic afterwards.
- Gently press the bio nano cell sheet onto your face for a close fit.
- Leave the sheet mask on for 20-30 minutes and remove afterwards.
Place of Origin
Korea
Width
1
Height
17
Depth
13.5
1. PAYMENT
For your convenient online shopping with Watsons, we offer the following payment methods:
1. Cash on Delivery
2. Payment in advance by the following methods:
- Local ATM card (Your card need
- Credit card / Debit card / VISA / MASTER / JCB / AMEX
- eWallet: Momo
2. ORDER CANCELATION
As your order will be processed immediately once you have confirmed payment. For more assistance on cancellation, please contact us via:
- Hotline: 1900 989877 (9:00 - 21:00)
- Email: contactus@watsons.vn
- Website: https://www.watsons.vn/contactUs
3. DELIVERY TIME AND SHPPING FEE
We always try to deliver your order as soon as possible with following delivery types:
1. Home Delivery
- Free shipping for order from 249.000 VND
- Order under 249.000 VND will have shipping fee:
▪ Within Ho Chi Minh City: 19.000 VND. Expected delivery time from 1-3 business days.
▪ Other cities / provinces in Vietnam: 49.000 VND. Expected delivery time 3-7 business days.
2. Click & Collect:
- Free shipping with expected delivery from 3-5 business days.
4. RETURN & REFUND
We always try to make sure that items delivered to you are of a good condition and correct. However, the following types of items can be put up for return and refund request:
- Wrong type of product, wrong dimension or color, missing items vs initial order
- Expired items
- Defective item during delivery
The customer may return the order within 14 days from the date receiving the order following attached Return form in the order:
- Return order needs to have all items in initial order, including gifts, coupons, and vouchers attached (if any).
- All items item must remains unopened, unused, no defective and dirt on packaging.
- After the order is returned successfully and checked following above condition, the refund is sent to customer within 30 business days.
Please contact Customer Service at 1900 989877 (9:00-21:00) or Email: contactus@watsons.vn for further information.