3CE Mood Recipe Matte Lip Color 3.5g .#221 Mellow Flower
Product Details

About This Shop

Promotion

PAYMENT & DELIVERY
Description
Son Thỏi 3CE Mịn Lì Mood Recipe Matte Lip Color 3.5g .#221 Mellow Flower
Son Thỏi 3CE Mịn Lì Mood Recipe Matte Lip Color 3.5g là dòng son lì với chất son kem lì và đậm. Kết cấu dạng kem lót giúp bám chặt vào môi, duy trì sắc tố sống động suốt cả ngày dài. Chất son mờ lì tăng độ bám, giảm hiện tượng son trượt môi, tạo đường viền môi gọn gàng, không hề gây khó chịu hay nặng môi giúp môi thêm gợi cảm, thu hút.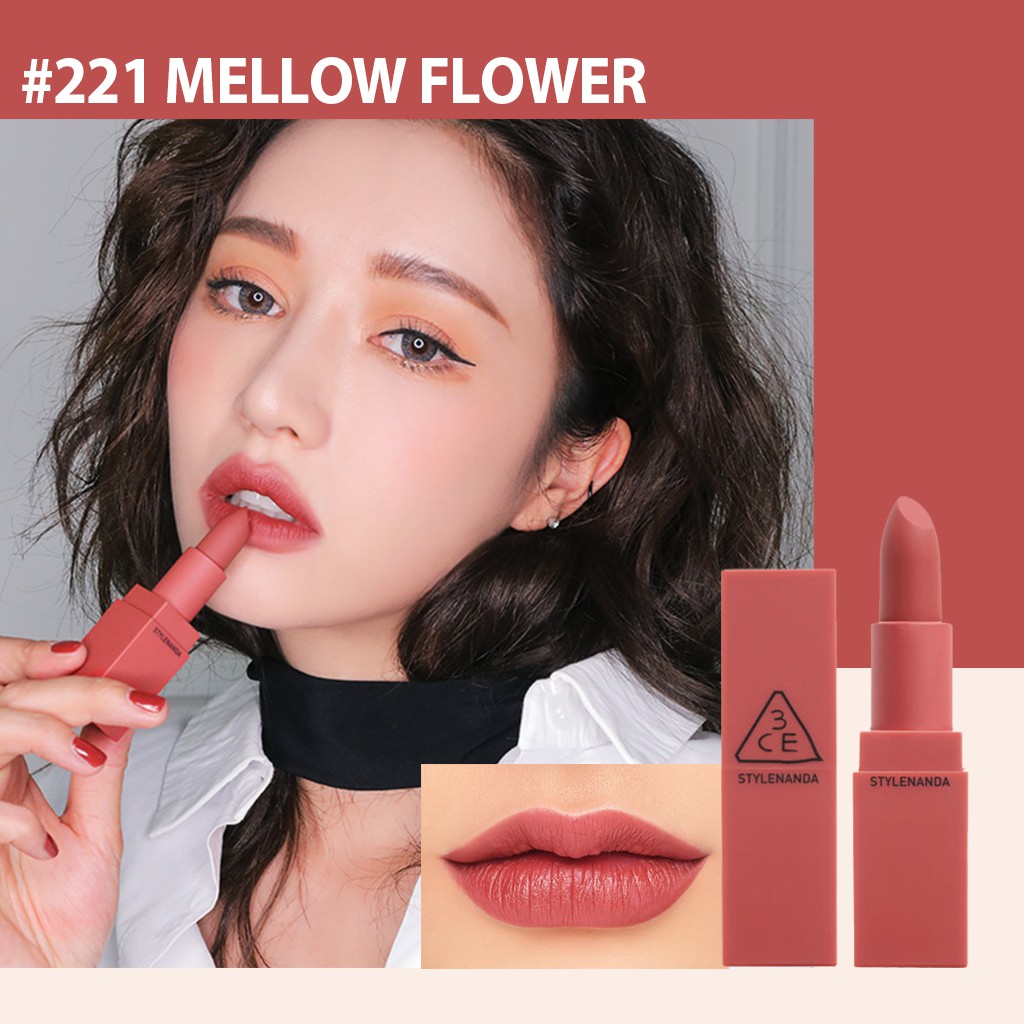 Thành phần chính và công dụng:
- Son môi dạng lì với dạng kem giúp đôi môi của bạn duy trì màu sắc rõ rệt cả ngày.
- Dòng son nổi bật với những đặc tính son lướt mềm mại, nhẹ môi, tạo hiệu ứng mịn lì tự nhiên, không bị khô hay bị bột và cho hiệu quả lâu trôi.
- Kết cấu mờ giống như kem lót cho phép lướt nhẹ mà không cần kéo căng trong khi tạo ra đôi môi rõ ràng, rõ nét.
- Mood Recipe Lipstick có dạng kem và pha trộn dễ dàng để tạo ra đôi môi chuyển màu tự nhiên phù hợp với mọi kiểu trang điểm.
.#114 Rows: Màu cam đào
.#115 Muss: Màu hồng đất
.#116 Inked Heart: Màu cam đất
.#909 Brick Rose: Màu đỏ gạch
.#220 Hit Me Up: Màu cam đất ngả gạch
.#221 Mellow Flower: Màu đỏ hồng
.#222 Step And Go: Màu đỏ đất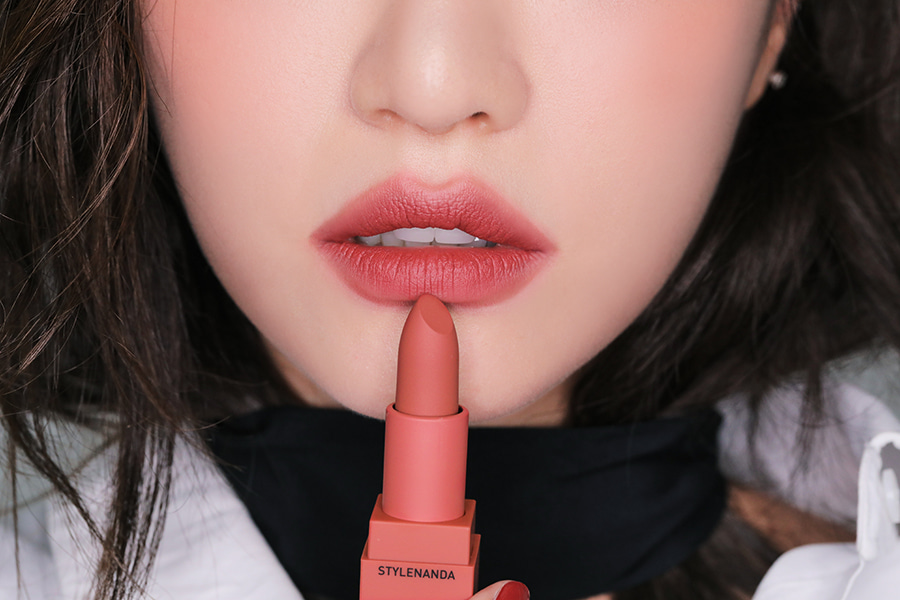 Đối tượng sử dụng:
Son Thỏi 3CE Mịn Lì Mood Recipe Matte Lip Color 3.5g với nhiều tông màu, phù hợp cho nhiều phong cách trang điểm.

Hướng dẫn sử dụng:
Lấy một lượng nhỏ son môi và thoa nhẹ nhàng lên môi.

Xuất xứ thương hiệu:
Hàn Quốc
Place of Origin
South Korea
Ingredients
Silica, Isononyl Isononanoate, Ethylhexyl Hydroxystearate, Hydrogenated Polyisobutene, Polybutene, Synthetic Wax, Microcrystalline Wax, Triethylhexanoin, Polyglyceryl-2 Triisostearate, Euphorbia Cerifera (Candelilla) Wax,...
Storage Information
Store the product in a cool, dry place, away from direct sunlight
Width
2.5
Height
8
Depth
2.5
1. PAYMENT
For your convenient online shopping with Watsons, we offer the following payment methods:
1. Cash on Delivery
2. Payment in advance by the following methods:
- Local ATM card (Your card need
- Credit card / Debit card / VISA / MASTER / JCB / AMEX
- eWallet: Momo
2. ORDER CANCELATION
As your order will be processed immediately once you have confirmed payment. For more assistance on cancellation, please contact us via:
- Hotline: 1900 989877 (9:00 - 21:00)
- Email: contactus@watsons.vn
- Website: https://www.watsons.vn/contactUs
3. DELIVERY TIME AND SHPPING FEE
We always try to deliver your order as soon as possible with following delivery types:
1. Home Delivery
- Free shipping for order from 249.000 VND
- Order under 249.000 VND will have shipping fee:
▪ Within Ho Chi Minh City: 19.000 VND. Expected delivery time from 1-3 business days.
▪ Other cities / provinces in Vietnam: 49.000 VND. Expected delivery time 3-7 business days.
2. Click & Collect:
- Free shipping with expected delivery from 3-5 business days.
4. RETURN & REFUND
We always try to make sure that items delivered to you are of a good condition and correct. However, the following types of items can be put up for return and refund request:
- Wrong type of product, wrong dimension or color, missing items vs initial order
- Expired items
- Defective item during delivery
The customer may return the order within 14 days from the date receiving the order following attached Return form in the order:
- Return order needs to have all items in initial order, including gifts, coupons, and vouchers attached (if any).
- All items item must remains unopened, unused, no defective and dirt on packaging.
- After the order is returned successfully and checked following above condition, the refund is sent to customer within 30 business days.
Please contact Customer Service at 1900 989877 (9:00-21:00) or Email: contactus@watsons.vn for further information.